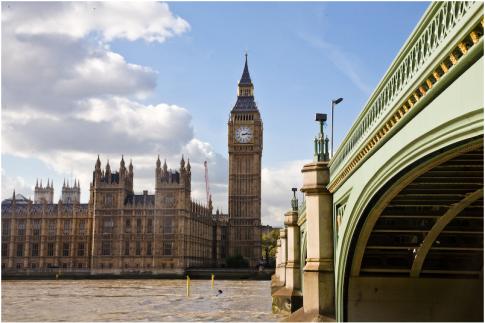 While I lived in London for three years as a university student (and forty minutes outside it from ages eleven to eighteen), I don't get back as often as I'd like. Despite that, I've got a well-honed roster of places I like to hit up when I do. The below is by no means the Definitive Guide To London; it's just a small list I send to friends when they ask what they should do and see in England's capital. I haven't lived there since 2002, so I'm hardly up on the hippest things, but I hope you'll find a few of these suggestions helpful.
Eating and Drinking
My favorite restaurant in London is the Afghan Kitchen; it's not at all fancy, but the food is excellent. It's a teeny tiny little place and you quite often have to share tables with other people; it's always packed because the food is so good. It's cheap, too — I'd suggest getting a few dishes and sharing them between you. There are only about five things on the menu and the best thing is that it hasn't changed a bit since 1999 when I first went there; the lemony, yogurty chicken thing is one of my top ten favorite restaurant orders ever, and you don't want to miss a side order of the piping hot bread. The Afghan Kitchen is closed on Mondays, and your best bet is to make a reservation, otherwise you'll have to wait for ages when you show up. I'm also pretty sure they don't take cards, so bring cash. (Tube station is Angel; go right and walk for ten minutes.)
Upper Street, where the Afghan Kitchen is, has a lot of other great restaurants and bars and boutiques too. I went to Ottolenghi the last time I was in London and really enjoyed it—even if you don't have a meal there, pop in to the front bakery part because you can't go wrong with one of their cakes. A few steps away, I've spent many an evening at the King's Head, a pub with a theatre in the back, which is useful in that stays open til 2am (a huge anomaly amongst English pubs, which mostly close at 11pm.)
My other old stomping grounds are around Russell Square; there's a pub here called the Norfolk Arms, which has great food too, and around the corner, I also like the Marquis of Cornwallis (mostly for its name, lets admit it). If you want some good old English fish and chips, there's a great place on nearby Leigh Street called the North Sea Fish & Chips Restaurant, or take the tube to The Seashell (pro tip: don't eat in at either of these places or you'll be charged about three times the price. Pick it up and eat your fish and chips wrapped in paper at a park around the corner; far more authentic!)
For quick lunches on the run, you'll see that there's a Pret a Manger on every single corner in London---these are great places to stop for a sandwich and a cappuccino or a cold drink; you pick what you want from the refrigerator and then you pay for it and can take it away or sit there and eat it. (They also have really good pains au chocolats for breakfast.) The sandwiches are delicious and reasonably priced and you'll almost NEVER be in a place where you can't find a Pret. (I would also like to mention that I was recently in New York and went to a Pret a Manger and it was NOT THE SAME. The bread is much better in the English ones, and you can quote me on that.) You can also pop into any chain of Marks & Spencer (mostly just called M&S, Marks, or---if you really want to go the whole hog---Marks & Sparks) which is an upscale department store, with an excellent food department; they also sell ready-made sandwiches, as well as tons of other things like crisps and cakes and biscuits and drinks, and it's a really good place to get a cheap lunch on the run (please try the freshly squeezed orange juice with raspberry puree!)
In fact, that's a really important distinction to make: English ready-made sandwiches are a lot different to American ones, both in terms of taste and selection. Whereas you probably wouldn't get a pre-made sandwich in the US unless you were at a gas station and super desperate, it's actually a very English thing to buy for lunch: you can also get good ones at Sainsburys (big grocery store, locations all over the city) and Boots (believe it or not, a drugstore – or, as we call them in England, a chemist.) If you go to any of these places at lunchtime, you'll see all the English office workers getting their lunch: a sandwich, a packet of crisps, and a drink. You must try Ribena (blackcurrant juice) and Lilt (fizzy grapefruit soda, tastes a bit like Fresca.)
Remember that you will more than likely find about fourteenpubs on every street corner – there is nothing that delights the Englishman more than popping into the pub for a quick pint. You don't tip in pubs (you will be singled out as a tourist and laughed at if you do, take it from a former barmaid) and the most common and popular thing to order is a pint of whatever's on tap. (I always get Magner's cider if they have it.) Remember that pubs close at 11pm---at about 10:50pm, the barman will ring the bell for last orders and this gives you about ten minutes to get another drink in; you can stay til around 11:30pm finishing your drink before they kick you out.
If you want to have a proper English afternoon tea---not "high tea," which, trust me, is something else entirely; it's a common misconception, but you can read about the distinction here---the definitive place to do it is Claridge's. It's pricy, but it's worth it if you want to do the scones with clotted cream up right.
Shopping
You should check out Camden if you have a chance--the tube will take you straight there. It has a huge market on the weekends, which has got steadily more touristy over the years, but it's still a fun place to see, and there are a few good places to grab a bite to eat on the high street. You might also want to go to Covent Garden; again, lots of shops and cafes and people playing music on the street: it's a bit touristy but a must if it's your first time in London.
On Oxford Street, you'll see all the usual suspects (H&M etc), but you should also check out the enormous three-story Topshop and a few posh English department stores like John Lewis---or head down to Bond Street for Selfridges. Once you're tired of shopping on Oxford Street, veer off down one of the side streets on Oxford Street and wander around SoHo, which is packed with some good little sandwich shops and cafes. Carnaby Street is also near Oxford Street if you want a flashback Austin Powers moment.
Other shops to hit up for novelty value include the aforementionded Boots, and also Superdrug, both big chains of chemists with all sorts of products that you can't get at home. There's W.H.Smith and Waterstones for books and magazines, and Paperchase (on Tottenham Court Road, just off Oxford Street) for nice cards and diaries and journals and paper products, as well as Habitat right next door for home furnishings. (Also, at this point, you are a stone's throw from my university English department, which I find quite hilarious.)
Finally, you've got to do the quintessentia Harrods thing too, haven't you? Look around the Food Hall, but be warned that everything is very pricy.
Sightseeing
I would definitely go to the Tate Modern---I I love it, and it's free! Afterwards, you can walk through Borough Market and get some lovely cheese and bread and fruit for a picnic.
Another thing I totally recommend is climbing to the top of St. Paul's Cathedral---on a clear day, the view is phenomenal. I'm not sure the tour inside St. Paul's is really worth it, but it's nice to look around on your own.
For a nice day's itinerary, take the tube to St. James' Park or Green Park and follow the signs to Buckingham Palace (if you want to see the Changing of the Guard, which is quite splendid, it usually happens every other day at 11:30am, though you might want to get there quite a bit earlier to get a good view.) Gaze at the palace for a while, then walk through St. James' Park (keep your eyes peeled for pelicans!) and follow the signs to Westminster Abbey, which is about a fifteen minute walk. On the way, you'll see the War Cabinet Museums and Big Ben, so you'll get a lot of bang for your sightseeing buck! From there, head towards the Thames (don't worry, more signs) and cross one of the bridges, then walk south all the way along the river (there are some nice underground book markets for browsing), past the London Eye, and as far along as you want, really (you'll see St Paul's in the distance; walk towards the dome!)
As far as museums go, I love the Imperial War Museum, which I just find some fascinating, and the The Victoria & Albert Museum (just called the V&A) is also one of my favorites. The Natural History Museum reminds me of school trips, but it's a lot of fun, and I always like going to the National Gallery in Trafalgar Square (home to the pigeons!), which is both free and very good.
My favorite park is Hyde Park---huge and gorgeous and lots to do (you can even go to the Princess Diana Memorial Fountain if you like!) Visit the Serpentine Gallery or mosey over into Kensington Gardens. I also love Regent's Park, where you can go boating on the lake, which is a lot of fun. You'll also find lots of pretty squares all over London – just little parks in the middle of the city (Soho Square is a famous one, as is Russell Square) that are nice for just sitting in the sunshine and eating your sandwich from Marks & Spencer!
It pains me to admit it, but I haven't actually been to the Tower of London; you should, however, and then you can tell me all about it.
Getting Around
London is definitely a walking city, but you'll likely need to take the tube a few times too. If you're going to be using it for more than a day, you might want to get an Oyster card as soon as you get there, rather than paying full fare all the time—you'll save a lot of money. Alternatively, you might want to get a One-Day Travelcard, particularly if you're going to be taking the tube more than a couple of times in one day. Buses are pretty easy (sit on the top!) and you can use your Oyster card on them too. Here's a really useful website for figuring out your route on public transport. Of course, there are always black cabs as well, but they can get expensive fast if you use the all the time.
If you arrive at Heathrow Airport, you can take the tube (Picadilly line) into Central London (it about 45 minutes) but if you arrive at Gatwick, you'll have to take the regular train. You can also take the Heathrow Express (a train) from Heathrow if you can't be bothered with the tube—it's a lot quicker, obviously, but quite a bit more expensive. (FYI, there's also the Gatwick Express from Gatwick into Central London, but it's also more expensive than just the normal everyday trains that pass through Gatwick--although it's a bit quicker too.)
Speaking of trains, if you know you're going to be going somewhere on one before you leave, it's a really good idea to book your train tickets in advance on The Trainline because you can save a lot of money. You just buy your tickets online here and then pick them up from any ticket machine at any station once you get to England.