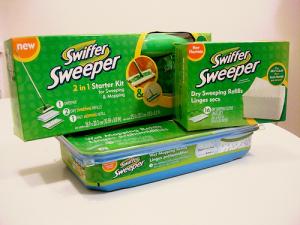 It's probably not a very nice thing to say, though I think it's a fairly accurate one: my cats are to blame for every problem in my house.
Well, alright then, not every problem---I suppose they're not responsible for the outdated dishwasher, really, or the closet door that doesn't properly shut---but certainly every problem regarding the floor. My cats are large, they're fluffy, and their hair gets everywhere. And the few places their hair doesn't end up? Well, their kitty litter ends up there instead. In order to keep my apartment sanitary enough to avoid a concerned phone call from the San Francisco Department of Health, I find myself constantly sweeping up grit and fur, grit and fur, grit and fur. And while I like to think I do a decent job of it, anyone who's ever owned a pet before will agree: just like you can't please all the people all the time, you can never really get rid of all the cat hair all the time either.
"Hello! I'm Charlie! I weigh seventeen pounds! That's not even a joke, because Holly weighed me once on her bathroom scale out of curiosity. Do you know how much cat hair a seventeen pound cat can produce? A lot!"

So when the folks at BlogHer offered to send me a free Swiffer to try out as part of a review program, I mentally high-fived myself. Wait, no, that's not the first thing I did: the first thing I did was panic that the offer wasn't really part of a review program, but merely some sort of intervention to get me to clean my floors better. Which of my friends had been so disturbed by my (lack of) housekeeping that she'd tattled to BlogHer about it, I wondered. ("Do something! She lives in a den of cat hair! Do anything!") After that particular paranoia had passed, though, then I really did high-five myself. Woo-hoo! Free cleaning products! The perfect gift for the blogger with a mild case of OCD!
Now, I've owned Swiffers before: two or three of them, in fact. I've always thought they did a pretty good job, but I've certainly found that they had their flaws: often the little cleaning pad would come unstuck while I was mopping, for example, or the handle wouldn't turn the way I wanted it to. When my new Swiffer came in the mail, however, it seemed to be a new model, or at least one I hadn't seen before. Curiously, it also came in a surprisingly small box for a tall mop.
Once I opened the box, however, I realized that the Swiffer merely came in five pieces---five very diminutive, very easy-to-put-together pieces, and hey, if I say something's easy to put together, then you know it really has to be. I assembled it quicker than you can say "hey, hairball on the floor!" and got to work.
My Swiffer came with two packs of cleaning pads: dry ones for dusting and wet ones for mopping. I started with the dry ones, which were pleasingly easy to affix to the bottom of the implement---you just tuck them into the little "teeth" on the bottom of the rubber cleaning pad---and started Swiffering. Because yes---just like Googling and Facebooking and Yelping---Swiffer has now become a verb.
Now this is the point where I was going to show you a picture of everything the dry cleaning pad picked up, but the more I thought about it, the more I figured you probably wouldn't respect me in the morning if I did. There was a lot of cat hair on that pad, I'm ashamed to say, cat hair I never would have seen with the naked eye. It was slightly mortifying, really, to discover that I'd been coexisting with that much cat hair. Honestly, I could have knitted a small blanket with all that cat hair the dry Swiffer pad picked up. Or at least a very warm pair of gloves.
Once I'd dusted---I was pleasantly surprised to discover that I could get away with just one dry pad for my entire 700-square-foot apartment---I decided to give the wet ones a go. I mean, why not, right? I was on a cleaning roll!
Eh, this is actually a picture of Sean on a cleaning roll. But he wanted a go too!

After a wee bit of confusion that involved both me and Sean turning the Swiffer over and over with furrowed expressions on our brows, we figured out that the wet cloths attach in exactly the same way as the dry cloths do. If I did have a complaint, it would be that the directions on the boxes of cleaning pads aren't exactly clear---but then again, one might argue you don't exactly have to be a paid-up member of MENSA to mop your kitchen floors, so maybe my complaint is unwarranted. (Psssst, Swiffer: perhaps you could just provide me with some more comprehensive instructions. Because I, apparently, need them.)
I mean, there are THREE STEPS. Where was I going wrong?

I had thought, after going over the floors with the dry cloth, that there wouldn't be anything left to pick up with the wet one, but boy howdy, was I wrong. I used one wet one in my kitchen, one in my bathroom, and one each in my living room and bedroom---they don't seem to stay wet for long enough to use for a greater radius than that, which is something of a shame---and in the process picked up a whole bunch more dust and cat hair and general detritus I'd rather not think about. And as a rather nice bonus, my whole house smelled like "fresh window scent" when I was done.
Speaking of being done, the whole ordeal was happily, painlessly quick: five minutes for dusting, six or seven for mopping, and that was the end of it. This bodes well for a) my general laziness, and b) my propensity to invite people over at the last minute when the house hasn't seen the business end of a cleaning implement in several days. I also liked the way the mop head twisted and turned with my every move, fitting into awkward spaces. You know, like the one between the toilet and the sink.
All in all, I was pretty pleased with my free Swiffer, though I do wish the wet cloths had lasted for larger surface areas; it seemed a little wasteful to use so many, especially in my tiny apartment, and particularly since I usually use Method's OMop, which has a washable cloth pad that you just throw into the laundry basket when you're done. That said, I was very impressed with Swiffer's dry dusting cloth---so much more effective than just sliding about the hardwoods in your socks---and will definitely be using that to "pre-clean" from now on, since it picked up cat hair like a dream.
In fact, that's given me an awesome idea: hey Swiffer, now you've got my floors sorted out, how about making one for my favorite pair of black pants?
Look! In case you don't believe me, here is a Before and After!
BEFORE:
AFTER:
Well, okay, maybe you had to be walking around barefoot on my living room floor to really tell the difference. But trust me, it worked.
24 Comments