This is a compensated review by BlogHer and Intel. That said, I promise to give the truth, the whole truth, and nothing but the truth when telling you about this product. (Internet, please, like I'd try and convince you to buy stuff I didn't like myself.) So here's my disclaimer: yes, I got sent this thing for free and I'm getting a little bit of money to tell you what I thought about it, but I would never, ever pretend I dug it when I didn't. Cross my heart and swear to Jordan Catalano.
When I first got the email asking me if I'd like to review the Viliv X70EX I forwarded it straight to Sean. "This gadget looks cool," I wrote. "But I have no idea what it is." Sean wrote me back so fast that he must have got whiplash doing it. "THAT IS THE MOST AWESOME THING EVER," he said. And then he sent me a link to some videos on Amazon---where I also discovered that the Viliv X70EX costs $599+, and anything that costs $599+ has got to be fairly impressive---and although I dutifully watched these videos, I've got to tell you, I still wasn't a hundred percent clear on what the Viliv X70EX actually was. I mean, I was maybe, like, seventy four percent sure. And a half.
It wasn't until the Viliv X70EX actually arrived on my doorstep and I unwrapped the box that I had a better picture of what it supposed to do. I'm not exactly a technology whiz, in case you haven't noticed---I can pretty much turn my computer on, but all bets are off after that; I mean, once I unplugged the router to get the Internet working again in our house and just about bought myself a bottle of champagne to celebrate---so the Villiv X70EX was kind of mystifying to me, at least until I started playing around with it.
And then I figured out what it is: it's basically like a very, very small laptop---smaller than a paperback book---but without a cover or a keyboard. Is this making sense? Well, how about this: it's sort of like an iPhone if your iPhone worked out over the summer and got a little bit heftier, and also started hanging with a different crowd and running Windows instead of being a tiny Mac. Basically, you can take the Viliv X70EX anywhere and do lots of awesome Internetty things on it. I like doing awesome Internetty things. I also like going places. This boded well for my relationship with the Viliv X70EX. It seemed like maybe we were going to get along.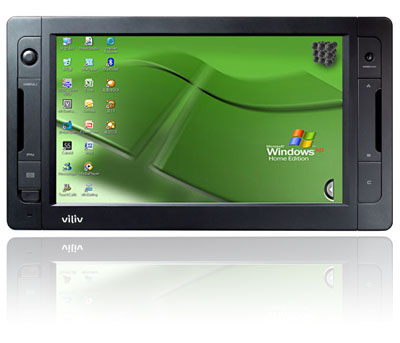 Here are some basics about this awesome little gadget, in case you were wondering: it's only 7 inches long and a little less than an inch thick. It has a touch screen, which is pretty cool, as well as a built-in GPS navigation system and a webcam. It has "full PC capability," which means you can pretty much do anything on it that you can do on a normal PC (like type something up in Word, for example.) And since its formal title is a "mobile internet device," you can get on ShirtlessJaredLetoPhotos.com—or, you know, wherever you spend the majority of your time, no judgments here---wherever you can find an Internet connection.
In short, this thing is like a tiny little baby computer! I want to tickle it under its chin and ask it whoooooo's a cute little mobile internet device, who, who, who?
It also has something called the Intel® Atom™ processor which, the marketing blurb assures me, "has been designed to be smaller and more power efficient, enabling you to get devices with full PC functionality that can fit into your purse or pocket." While I'm not sure this thing would be slim enough for me to put in my pocket, per se---at least not without making a half dozen "is that a Viliv X70EX or are you just happy to see me?" jokes first---I definitely had no qualms about tossing it straight into my purse. It took up far less room than my ridiculously overstuffed Moleskine day planner and probably weighed less too.
And this, you see, is how I ended up carrying the Viliv X70EX with me on a recent trip to Mexico City. Hey, I thought, I'm mobile. This thing is mobile. Let's see how mobile we can be together.
Yeah, we were pretty mobile together. It was pretty awesome. In the space of four days, I watched a movie on this bad boy on the plane (after downloading it from iTunes in advance), Skyped with Sean from afar thanks to the handy built-in webcam, updated my Twitter and Facebook statuses, stored a few pictures from my camera's memory card on it and then sent them to Sean to show off my fancy hotel room, downloaded a book from Amazon and read it using the free Kindle for PC app, and checked both my work and personal email accounts about fourteen hundred times. Not bad for something I didn't really understand about a week ago.
For typing and clicking around, the Viliv X70EX comes with a built-in stylus that snaps neatly into the top when you're not using it, and it's way less annoying that you might think it would be (and much easier than just using your index finger, text message-style.) My Mac snob husband said the video quality wasn't the best he's ever seen, but then again he's my Mac snob husband, and it seemed pretty passable to me. The device kept a charge for a decent amount of time and really, it did so much and made my travels so much easier, that I'd be hard-pressed to find too many things I didn't like about it.
(I mean, sure, it would be great if there were a button that automatically puts it into standby when you're done using it---rather than going to the Start menu, clicking "shut down," and then putting it in standby mode, which was sort of clunky—but that's really a fairly minor complaint, and you know what, maybe I just need to stop being so damn lazy. There are three buttons to push instead of one! My god! The sky is falling! etc etc etc.)
Anyway, now comes the fun part. Would you like your own super awesome teeny-tiny mobile internet device?
Because guess what? I've got one to give away! Yep, you can win your very own Viliv X70EX---did I tell you these things cost $599+? That's a pretty generous holiday present to yourself—by answering a simple question. How would this mobile internet device make your life easier?
To enter, leave me a comment below---or a link to a post on your own blog---with your answer to the question above. The contest will begin on December 8, 2009 and end on December 30, 2009. Make sure that the e-mail address you leave is correct so I can contact you when you win. (You'll know it's from me because I'll put OMG OMG OMG in the subject line.)
Here are some rules:
No duplicate comments.
You may receive an additional entry by linking on Twitter and leaving a link in the comments.
You may receive an additional entry by blogging about this contest and leaving a link in the comments.
This giveaway is open to US Residents, aged 18 and older. (Sorry, foreign teenagers! That kind of sucks for you.)
Winners will be selected via random draw, and will notified by e-mail.
You have 48 hours to get back to me, otherwise a new winner will be selected. That person will be like "damn, that other person was sleeping on the job."
You can read the official rules here, if that's your bag: And you can also give yourself EIGHT more chances to win a crazy awesome gadget like this one at the BlogHer page right here. You can also read more about the Viliv X70EX here.
So let's go! Let's win some free stuff! Tell me: How would this mobile internet device make your life easier? What would you use it for?

681 Comments