This is a sponsored review from BlogHer and Valspar.
Am I the only person who chooses paint colors based on their names? I mean, I can't be, right? Judging by all the suggestions you guys gave me for my bedroom walls last week, I'm not the only one won over by the wonderful-sounding Birdsong Blue, the evocative Wet Pavement, or the whimsical Roaming Pony. Must be the word nerd in me, because I do this with nail polish too: ah, Sweet Aubergine sounds so delightful, who cares if my new manicure makes me look like I've slammed my hand in the car door?
So first of all, thank you so much for all the many paint color choices you gave me last week, and congratulations also to Keenie Beanie, winner of last week's $100 gift card to Lowe's. (May you dance in the aisles of Lowe's, Keenie Beanie, buying all the home hardware you need!) This week, we're going to take a look at some of the colors you chose for my new bedroom, narrow them down a bit more, and give away a second $100 gift card to someone else. If you need a refresher, here's the post where I showed you my gloriously blank white-walled bedroom and begged for your help making it look better.
Now that you're all caught up, let's look at some of the choices. The problem---if you can call it a problem, and I don't really think you can—is that Valspar just has so many colors I'd like to use; I'm fairly sure I lost a whole morning of my life playing with the Virtual Painter tool and I still wasn't any closer to making a decision. Luckily, however, you guys stepped in like little Lisa La Portas—that's an HGTV reference, for those of you who don't have a DVR crammed with home decorating shows (who are you?)---and gave me a few ideas. It was interesting, actually, to see which colors cropped up again and again. Here are a few of my favorites you chose: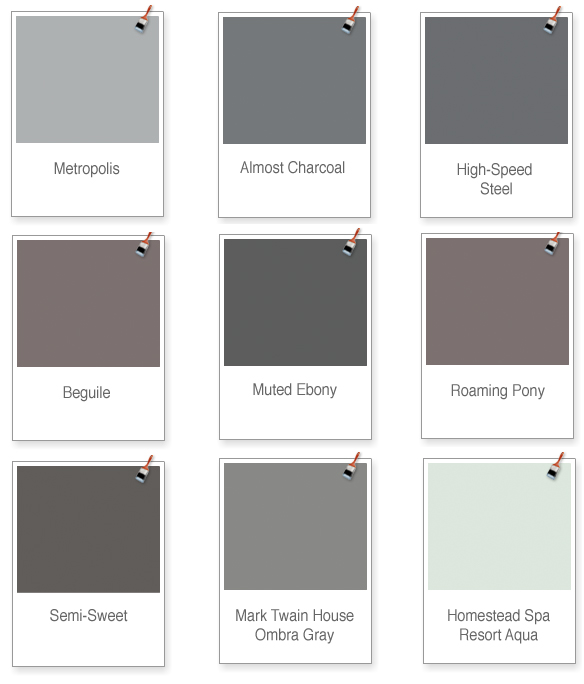 What do you think? Any particular standouts? I'm drawn to the Mark Twain House Ombra Gray (English majors unite!) but is it a little too green? I must admit to being rather in love with the High-Speed Steel and I'm curious to see how brown Semi-Sweet would be in real life. Almost Charcoal would look great with a glossy white---our bed, linens, and bedside tables are all white---but would I need another accent color as well? In that case, the pretty Homestead Resort Spa Aqua might be an interesting choice; gray, turquoise, and white is certainly a palette I've used before. Wait a second: am I trying to make my bedroom look like my wedding invitations?
To refresh your memory, here's the blank and boring bedroom in question; it's small-ish (it'll fit our bed, bedside tables, a dresser, and likely another small chest for our---gasp! Cover your ears, bedroom purists!----flat screen television), but it gets great light, it has a lovely view onto the backyard, and I love the original 1943 hardwood floors.
It's cozy and calm and I think—with the right color on the walls---we could really make it something.
And for further inspiration, here's AB Chao's bedroom, which I think is one of the loveliest bedrooms in the world. I even met her this weekend and told her so. She didn't seem as creeped out as I worried she might be.
Anyway, here's how it'll go: leave me a comment below and let me know which of the colors above floats your boat and rocks your world (or find one you like here), and---just like last week---you'll be entered to win a $100 Lowe's gift card, thanks to BlogHer and Valspar. (You don't have to spend it on paint, obviously. Me, I'd probably put it towards a shiny stainless steel dishwasher, but I have become boring and domesticated in my old age. You might want a grill or a hammock or dining room chandelier, you wacky young thing, you!) No duplicate comments, please, and you can read the official rules right here. The winner will be chosen at random and notified by me, and next week I'll show you which color we decided to go with.
So what do you think? Any of the above take your fancy? Almost Charcoal? Metropolis? High Speed Steel? And we can't forget about Roaming Pony, obviously. But remember: don't pick them just for the names. That's how I once ended up with a chartreuse kitchen.
287 Comments