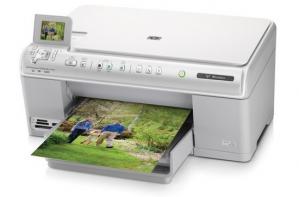 The first thing you should know is that I'm going to be giving away a pretty awesome prize at the end of this entry. No, it's not an evening with Brad Pitt or a lifetime's supply of cupcakes, but would you really want those either of things anyway? The former would probably be a major disappointment because Brad would just chatter on about Angelina's astounding beauty all the way through your chicken piccata---seriously, how much of a buzzkill would that be?----and the latter would be great for about fourteen minutes, until you realized you couldn't fit into any of your pants anymore.
A couple of weeks ago, BlogHer asked me if I'd like a free HP Wireless Photosmart C6380 All-in-One Printer to review. My response to that question was exactly what you'd assume my response to that question would be: a hearty YES MA'AM, possibly accompanied by an awkward little dance of glee. The printer arrived in an enormous box, and promptly sat in my hallway for two weeks, while I cleaned and vacuumed and maneuvered around it and tried to figure out where I could set it up, because did I mention it arrived in an enormous box? I'll tell you again: it arrived in an enormous box. My apartment is wee, you see, and my desk is even wee-er, and for a whole two weeks this flummoxed me: where could I put the printer? It would have to go on my desk, surely? Next to my computer? Because printers always have to go next to computers, right?
Internet, I believe myself to be a moderately intelligent person. I believe myself to have a soupçon of common sense. And yet, I am about to admit to you that apparently I have absolutely no comprehension whatsoever of the word "wireless." Now brace yourself for this next bit, because this sort of blew my little mind---or at least it did once I'd finally figured it out---but a wireless printer, my friends, HAS NO WIRES. Do you know what this means?. A wireless printer does not have to be plugged into your computer. And this means that a wireless printer does not have to sit next to your computer! A wireless printer can go ANYWHERE IN YOUR HOUSE. I'm sorry for the excessive capitalization and italics, but this concept took me a good few minutes to wrap my head around. And until I could wrap my head around it, all my thoughts appeared in my brain in upper case.
After that, of course, I went a little hog wild. "We could put it in the kitchen!" I said to Sean. "In one of the closets! Or I know, WE COULD TOTALLY PUT IT IN THE BATHROOM. Imagine if your printer was in the bathroom, right next to your extra toilet rolls! How hilarious would that be?"
In the end, we decided to put the printer in the living room, because that's where we had the extra space. But just knowing that I could have put it, say, on my bedside table if I'd wanted to, gave me a curious sense of freedom. Trust me, this is an absolutely beautiful revelation for those of us who live in small apartments like mine.
So here's the thing: I have never before had my own printer. This has often been something of a handicap, sure, but mainly I have got around it by just trying to avoid ever having to print things. Sean has his printer, so we've always had one in the house, but Sean's printer is ginormous and professional and meant to do special things like print large-format archival-quality photographs and frighten small children, so I've always been a little anticipatory about using it. In fact, if you knew how many boarding passes I'd accidentally printed in full color on horrifically expensive photo paper, you'd be a little anticipatory too.
The HP Wireless Photosmart, however, is a whole lot more user-friendly. And when I say it's user-friendly, this is really just a polite way for me to say that hey, if I can set it up, anyone can set it up. A child could set it up. A one-legged clown could set it up. My cat could set it up. Hell, my cat could set it up if I blindfolded him and only read him the instructions in Shakespearian English. It is, as we say in the United Kingdom, a complete doddle. As a person both technically challenged and easily frustrated, I appreciated that very much.
As printers go, this one is pretty nice-looking; it has a fancy digital display, which I liked, and it's fairly unobtrusive. Sure, it's still a gray printer, there's no getting away from that, but it's not horrendously ugly like so many printers are. And one of my favorite things about it---possibly because I'm so lazy---is you can print from anywhere in the house. Sean and I both installed the software on our own computers, you see, so we can now share access to the printer without either of our machines ever having to be plugged into it. This means, for example, that I can be sitting in the kitchen on my laptop, become seized with the urge to print out a full-color picture of a shirtless Zac Efron the periodic table of elements, press a button, and then walk into the living room to collect my goods. Sean can do the same. Though Sean probably wouldn't be printing out pictures of a shirtless Zac Efron. Um, I mean of the periodic table of elements.
And now here's the part where I somehow manage to work my wedding into this review. What, you didn't think you'd get away with not hearing about my wedding, did you?
In order to test out my new HP printer, I decided to use it for one of my many DIY wedding projects. I have a list a mile long of DIY wedding projects, and top of that list was these amazing photo lanterns from Decor8. (Seriously, go look at them; you'll die.) I'd been putting this project off because I didn't have a) a scanner, or b) a printer I wasn't completely intimidated by, but once I got the HP Wireless Photosmart C6380 All-in-One, all that changed.
Because oh yes, I might have neglected to mention this until now, but that "all-in-one" part? Why, it refers to the scanner and photocopier that are integrated into the printer. That's right, Internet, not only does this little marvel produce excellent quality prints and photos, it also lets you scan and photocopy things all in the same place. And can I just pause for a second and tell you how badass it is to have a photocopier in your living room? It's like living in the future! It's like being beamed into an episode of The Jetsons! AS GOD IS MY WITNESS, I'LL NEVER GO TO KINKO'S AGAIN.
Sean and I set about making the lanterns earlier this week as a collaborative project. Since we're not usually the type to indulge in couple-centric crafts when there's a perfectly good marathon of House Hunters on, it was a slight change to our normal week-night routine, but we had a lot of fun with it. The least fun part was going out to Ikea after work to get the lanterns, of course, but hey, look what we saw in Office Depot when we were buying the vellum! It's my printer! Hello, printer! You're going to make someone very happy indeed!
You can use any design to print onto the vellum, but since we seem to be incorporating a lot of maps into our wedding elements, I decided to scan one of the vintage maps I bought on ebay last week and use that. The scanner worked like a dream---it was probably the most straight-forward scanner I've ever used---and the printer handled the vellum marvelously: the design of the map came out crisp and clear and the colors were completely true to the ones on the screen.
It sounds simple, but I really appreciated having the scanner and the printer in exactly the same place, and being able to flip between the two with the push of a button. And just so the photocopier didn't feel left out, I conducted a little experiment on that too.
Once we'd trimmed the vellum, inserted it behind the glass of the lanterns, and lit the tea lights inside, we had our first DIY wedding project complete.
Don't they look good? I'm really, really pleased with them. Thanks to the great quality of this snazzy little printer and its handy all-in-one set-up, they were honestly a cinch!
So now it's time for the fun part. Would you like your own HP Wireless Photosmart C6380 All-in-One Printer? Because I've got one to give away! And all you have to do is tell me this: Why do you want this wireless printer? What would you use it for?
To enter, leave me a comment below, or answer the question on your own blog and leave your link in the comments. The contest will begin at 12:00 a.m. (PST) on Wednesday, April 22nd, and will end Tuesday, April 28th at 11:59 p.m (PST). Make sure that the e-mail address you leave is correct.
Here are some nitty-gritty rules. You know I'm a stickler for rules!
There are to be no duplicate comments. Please only enter once.
HOWEVER: You may receive an additional entry into the competition by answering the question on Twitter as well and leaving a link to your Tweet in the comments. You may also receive an additional entry by blogging about this contest and leaving a link in the comments.
This giveaway is open to U.S. residents. (Sorry, readers in Nepal! I guess shipping would be a bit of a bear.)
The winner will be selected via random draw, and will notified by e-mail.
Once I notify you that you've won, you have 48 hours to get back to me, otherwise a new winner will be selected.
If you don't get lucky here, head over to the BlogHer page for another chance at winning the same printer. You can also read what five other reviewers thought of it (hint: we were all pretty much on the same page. Ha! Page! Get it? Just a little printer humor for you there.) You can also head to the HP Wireless Printer site for more information.

Full disclosure #1: in case you didn't realize it already, this is a compensated review from BlogHer and HP Wireless Printers. Full disclosure #2: Sean will kill me for revealing this, but when I told him I was going to title this post "Prints Charming"---my other suggestions were "One Day My Prints Will Come" and "Prints Among Men," but neither of those was quite right, as you can probably tell---he said "what about "A Wireless Kiss From Prints Charming"? AND HE WAS SERIOUS.
***********************************
So! Ready? Got all the fine print? Then let's go! Trust me, you really want this printer. So just tell me why you really want it. What would you use it for?
363 Comments