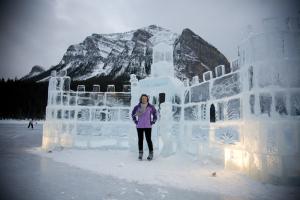 The most exciting that normally happens to me on a Thursday is fast-forwarding through the commercials on my DVR-ed episode of 30 Rock and pressing play again at exactly the right moment. Seriously, if this ever happens to me? Then man, it's been a banner day! This Thursday, however, the excitement quotient has been ratcheted way, way up. Because today, Internet, I flew to Banff, I went ice-skating on a real lake, and then just to cap off a day of firsts, I ate both air-dried bison and elk salami. Trust me: no other Thursday in the world is ever going to compare.
We landed in Calgary around lunchtime after a surprisingly uneventful flight from San Francisco, and if there's any adjective I like to use to describe my flights these days---just a few short weeks after a plane crash-landed in the Hudson River, of course---it's "uneventful." We managed to score not only exit row seats but also one of those rare but pleasant breeds of children who remain entirely silent throughout the flight, save for a jubilant cheer upon touchdown. Our bags came through quickly, our rental car turned out to be a brand new model---we were also, touchingly, referred to as each other's "spouse" on the rental agreement, which gave me a brief thrill, albeit a preemptive one---and, while we managed to get embarrassingly lost on the way out of Calgary (if you live in the area, you will know that we were not supposed to drive through a town called Cochrane, and yet that's exactly where we found ourselves), we figured it out after a little while and continued smoothly on our way without even yelling at each other once.
After a tour of the magnificent Fairmont Lake Louise from an extremely lovely man called Matthew (hi, Matthew!), we grabbed our rented ice skates and headed down to the frozen lake and, I'm sorry, but this is where I have to admit that I was positively shaking with excitement over this activity, because one of the things I have always wanted to do in my life is ice skate on a real frozen-over lake. This isn't because I'm particularly good at ice-skating or anything---in fact, as you are about to see in video below, it's really more the opposite---but rather because I may have attended just one too many ice discos in my youth, and ice discos are typically held in suburban malls, which just cannot compare to real frozen-over lakes, making real frozen-over lakes the stuff of dreams for suburban teenage girls everywhere. Or maybe that's just me.
(See? See how excited I am about the prospect of ice-skating on a real frozen-over lake?)
The thing that soon becomes apparent about ice-skating on a real frozen-over lake, however, is that there's nothing around the edges to hold onto. And this can often present a problem when your preferred method of stopping is crashing head-on into the bar around the side of the ice rink. Whoops! Not that either of us found that out the hard way or anything. Or, you know, the hard and cold and icy way.
Tomorrow, we're off bright and early to ski the Lake Louise area, and for now, my deep and squishy hotel bed is calling me, so I'll leave you with a video of our ice skating adventure (please ignore my bad, bad hair. Also, please ignore the fact that we apparently totally ignore that little boy who falls down in the middle of the lake---after someone screams, hilariously, "watch out, Scott!"---and then lies there crying for a while. Whoops! I didn't see him officer, I swear!) (No, I really didn't. I was too busy trying to simultaneously ice-skate and vlog. It's a tricky combination.)
Tomorrow I'll also tell you about the bison and the elk, and man, if that doesn't sound like the beginning of a joke ("a bison and an elk walk into a bar...") then I don't know what does, but this is what I do know: both the bison and the elk were surprisingly delicious. I'm full, I'm warm, I've ice-skated on a lake, and Canada, right now you and your perfect snow are wooing me dangerously. Stop it right now before I pack up and move here.
Ice skating on Lake Louise from Holly on Vimeo.
23 Comments