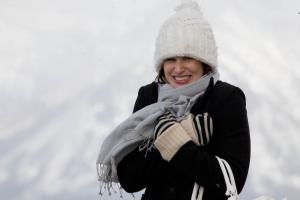 I bet you thought I'd finished telling you about my Banff trip, didn't you? Au contraire, my dear Internet! There's more! A lot, lot more, in fact. Day five in Banff was our last, sadly, but since our flight wasn't until the evening, we had quite a nice long time to enjoy it. And since we weren't hitting the mountains for the first time in three days, we even managed a lie-in. And after the lie-in? Why, we had breakfast at Chili's, of course. At Chili's? Oh yes indeed, at Chili's. Your eyes are not deceiving you; you read that right.
Our hotel, you see, had a Chili's on the premises. This proved to be something of a small source of confusion to us but apparently totally normal to everyone we encountered in Banff. "You're staying at the Fox?" they'd ask. "Oh yeah, I've been there. Well, not to the hotel, but I've had dinner at the Chili's." We, however, did not have dinner at the Chili's, but we did have breakfast there: our room came with two complimentary breakfast coupons both mornings and both mornings we dutifully took these complimentary breakfast coupons down to the Chili's and presented them to the girl pouring coffee. I have to say, for a Chili's, the breakfast was pretty darn good. I'm not sure what I was expecting---a fajita omelette? Baby back rib pancakes?---but what we got was an abundant buffet consisting of such delights as plain yogurt with berries, granola, make-your-own-waffles, and surprisingly delicious scones and muffins.
After breakfast, we took a quick spin around the local Safeway---so I could stock up on all my favorite English candy bars, of course---then headed to The Banff Center, which, I have to say, was one of the coolest and most unexpected parts about Banff. You think Banff, you think skiing, right? You think nature and hiking and the great outdoors, but I bet you don't really think culture. (I didn't, at least, though I suppose it could just be that I'm a neanderthal.)
The Banff Center, however, has culture in spades: a few nights before, in fact, we'd been to see a performance by The Mighty Popo, a musician who grew up in Burundi and whose band brought the house down, and had everyone, us included, standing in their seats and dancing in the aisles by the end of the show. (If you don't know anything about Popo---and I didn't---this video gives you a pretty good idea of his music. Except it's kind of in French, so...you know, there's that. Hope you took it in high school!)
The Banff Center, however, isn't just a great place to see a good show---or a good play or a good opera or a good recital---but it's also an educational epicenter where artists of all sorts come for workshops and retreats and inspiration (Yann Martel and Joni Mitchell have both been in residence.) Even more importantly, its fantastic restaurant Vistas is open to the public, and the minute you walk in to Vistas, you....uh, well you kind of realize how it got its name:
You also realize that despite what you might have thought about yourself previously, you're totally the kind of girl who takes three desserts from the buffet table without shame:
After leaving the Banff Center, we went for a leisurely drive, during which we spotted the very famous and fancy Fairmont Banff Springs...
...the Banff Upper Hot Springs themselves....
....and finally the largest tires on a bus I've ever, ever seen.
Look, I even stood next to them for comparison---I'm like the human equivalent of a dime!---to show you just how big they were.
And while Sean, quite hilariously, thought this was a bus full of tourists when we first pulled into the parking lot, it's actually a vehicle that traverses the Columbia Icefield (how awesome does that look? I'm totally coming back in summer) and if there's ever an excuse for tires that almost dwarf a person of 5"6, I guess the need to traverse an icefield would be it. (HEAR THAT, PEOPLE WHO DRIVE HUMMERS IN SAN FRANCISCO? YOUR VEHICLE DOESN'T TRAVERSE ICEFIELDS. I'M TALKING TO YOU.)
After we'd seen a bear (except kind of not really)...
....it was time to board the Banff Gondola, something I'd been looking forward to for the entire trip. Here are a few pictures Sean took of the Banff Gondola, and these pictures are pretty much for the express purpose of freaking out my mother, who hates heights and things swinging from heights and who would probaby rather get run over by a bus with enormous tires traversing an icefield than ride the Banff Gondola up the side of a mountain.
We, however, thought it was awesome. Although Sean did freak out just a little bit on the very steep, very shaky, very wow-is-this-how-it'll-end ride up to the top:
Once we were up there, the view was just astounding.
Although Internet, I've got to tell you, I don't think I've ever been so cold in my life:
Back in town, we had about an hour to kill before we left for the airport in Calgary, so we wandered around downtown Banff, which is picture-postcard pretty and definitely one of the loveliest downtowns I've ever seen:
While Sean was trying on snowboarding boots with an adorable teenage boy in a plaid shirt who looked like he walked straight out of the 70s ("an adorable teenage boy who looked like he walked straight out of the 70s in Canada," corrected Sean) I wandered from storefront to storefront, strolling into cute little candy stores and walking around with a delighted grin on my face like....well, like a kid in a candy store, I guess. I spent the better half of my paycheck at a fabulous place called Welch's ("the sweetest shop in town") and almost died with happiness when I discoverd that they still sold sweets in jars (remember how much I like sweets in jars?)
All too soon it was time to find a) the parking lot containing our rental car, and b) a clean public restroom---both free, I might add! Boy, you Canadians know how to treat a gal---and get started on the 90-minute drive back to the airport in Calgary. Lest you think we did this alone, however, I shall admit that we were in the company of a very large bag of caramel nut popcorn, which we bought at the urging of someone in the comments (I can't remember who! Was it you?) and thoroughly enjoyed. Thank you, person in the comments! My thighs thank you too. Except actually they don't.
I'm going to be honest, here. When BlogHer and Banf Lake Louise first proposed the idea of a sponsored trip to Banff, I was excited, of course (see: sponsored trip), but I was also a little bemused: Banff?, I thought. I didn't know anything about Banff, and besides, I wasn't, like, some Olympic skiier or anything. I mean, sure, I liked to (try and) ski, but I also liked to eat and drink and shop and stay in hotels with comfy beds and flat-screen TVs. The trip to Banff would be fun, I decided, but it wouldn't be somewhere I'd necessarily choose to go on vacation.
Well, Internet, I was wrong. I was stone-cold, not even kidding, totally and absolutely wrong. Banff rocks.
Look, I'd tell you if it didn't, trust me---sponsored trip or no sponsored trip, I'm always going to give you the truth---but it really, really does. Hand to heart, I'd go back in a second. I loved the people, I loved the cosmopolitan dining options, I loved the unexpected dose of culture, I loved the feel of downtown, I loved the patient ski instructors, I loved the breathtaking scenery, and I loved the fact that it only took us two hours to get there on the plane. I truly recommend it as a fantastic place for a vacation, and not just because I want you to bring me back some Cadburys while you're there.
And if you do go, please let me know if you'd like me to answer any questions or share with you any other information about where we ate or stayed or visited, because honestly, we had one of the best vacations we've had in ages in Banff. And you know what? I think that's saying something for a couple of people who recently got engaged in Rome.
14 Comments