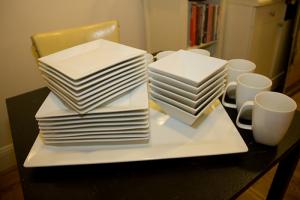 Alright, I know what you're thinking: "JC Penney? Really?" I mean, I admit it, that's kind of what I was thinking too. I haven't been in a JC Penney since 1996, when a boy I met in an Internet chatroom told me he used to be a JC Penney catalog model, and I made my mother drive me to the JC Penney in the Stamford mall in Stamford, Connecticut so I could flip through all the back catalogs in the hopes of spying his picture. (True story! Call me, TJ Piciullo from Islip, Long Island! I still have the prom picture you sent me!)
So when BlogHer offered me a $500 giftcard to spend on JC Penney's new home furnishings line, Linden Street, I wasn't entirely convinced. Wouldn't there be a lot of....plaid, I asked myself? A little too much wrought iron? Dried flowers? Polyester? Would everything look kind of like your Great Aunt Kathy had designed it---you know, the one who lives alone in the studio in Poughkeepsie and throws totally unironic birthday parties for each of her five cats?
Well, it turns out the JC Penney home furnishings department is all grown up. (Alright, so there's still some plaid. But it's easily avoided.)
A little backstory, if you will: I'm fiercely proud of my apartment in San Francisco, teeny-tiny shoebox though it may be. Everything in it is a result of some careful, serious thought and planning, and look! It's still the number four most popular House Tour on Apartment Therapy. Bottom line: this isn't a home into which I'll stuff a random assortment of crap just because it was free.
So when it came time to choose the Linden Street merchandise from JC Penney, I studied that online catalog---no sight of TJ Piciullo, sadly---like I was studying for the MCAT, the Bar Exam, and the London Knowledge, all at the same time. I wanted things that were me. (Well, us, I guess; my boyfriend lives here too.) I wanted things that fit in well with our mishmash of Asia-meets-IKEA decor and didn't scream I BOUGHT THIS BECAUSE I HAD TO. I wanted things that weren't plaid or wrought iron or featured dried flowers and polyester. I wanted things---if I am quite honest---that people wouldn't see and immediately go "hey, is that from JC Penney?"
And so this is what I chose:
Honestly, I'm incredibly pleased---and very pleasantly surprised---by all of it. Ordering was a snap (I liked that I could save my shopping cart and have it emailed to me; I forwarded the message to Sean so he could see what I'd picked out so far), and the shipping, while a little pricey at $34 (for $425 worth of stuff) was incredibly speedy. It was so speedy, in fact, that I wasn't even home when the stuff was delivered; I figured it would be another few days at least, so hadn't even bothered leaving a note for the FedEx guy. Top marks there, for reals.
Everything was packed very well, there were no breakages, and---again, surprisingly, because I've certainly had negative experiences with this in the past---everything turned out to look pretty much identical in real life to how it did on the website. Do you know how much of a relief that is? It's a huge relief.
So! Let's take a closer look, shall we?
The Bath Towels in "Soft Cream"
All bath towels are not created equal, and I have four criteria for mine: they have to be A) big, B) soft, C) thick, and D) white. The JC Penney towels are certainly A, B, and C---although they could have been just a little more C, if I'm honest---but they're not D because JC Penney didn't offer white as an option, and Soft Cream was the next best thing. So apart from not quite matching my shower curtain, I have no beef with these towels at all. They look pretty, they dry well, and they feel pretty luxurious, like maybe you stole them from the W Hotel or something. Or at least a Westin.
The Chenille Couch Pillows in "Rustic Red"
Alright, I know I have a lot of pillows on my couch, but I collect pillows like other people collect shoes (um, I also collect shoes like other people collect shoes) and I could not resist adding two more to the big happy pillow family in my living room. In case you can't tell, the JC Penney pillows are the two plain red ones in the middle there, and I actually really, really like them. In fact, I'm leaning against one right now, and wow, is it ever comfortable.
These pillows, you see, are big and soft and---how do I put this?---expensive-looking. I've ordered pillows from the Internet before and they've shown up and been all thin and synthetic and cheap and shiny. These pillows are not like that at all. These pillows totally look like they escaped from Pottery Barn and made a run for it. I actually may go back and buy some more of these pillows (with my own money!), although I might be forced into some sort of pillow-quitting 12-step program if I do that---a pillow intervention! "Holly, we only want to help you be able to sit down on your own couch!"---so maybe I'll leave it a month or two just in case.
Suffice to say, though, if I was scoring these pillows, I would give them an unequivocal A+. Two thumbs up! Go, pillows! Go with your big, squishy, expensive-looking selves!
The Square Bronze Vintage-Style Table Clock
This is the kind of thing that I'm totally going to pretend I got at a flea market, and you know, I think I'm absolutely going to be able to get away with it. The website says it's "1940s-inspired" so maybe I'll just say it was a relic from World War Two that my grandmother presented me with on my 21st birthday after carrying it in her pocket from the bomb shelter. Either way, I sort of think people are going to be jealous of it. And isn't that what we strive for in all of our possessions?
Apart from telling the time and looking pretty---I was surprised, actually, by how big it was---it also has a very decent alarm feature (well, I haven't missed any important morning meetings yet). I also like the way the face glows just everso slightly in the dark at night; it's not an obnoxious luminous green glow or anything, just a very pale "hey, I'm here if you need me" sort of tinge. As a bonus, it came with some very detailed instructions printed in a nice font on what looked like recycled paper. Five stars for presentation!
Framed and Matted Print of 1940s Boys at the Movies

(Uh, yes, we totally know it's not hung at the right height yet. The hardware store closed at 7pm and we forgot to get the stuff we needed to rehang it.)

This is not only my favorite JC Penney purchase, it might actually have climbed the rungs to become one of my favorite possessions ever. I initially chose this print because the little boy right in the middle looked a lot like my brother Tom when he was younger, but it also reminds me of the three little boys in The Up Series (start watching at 1:22 for the best! part! ever!)
The thing about this print is that it's huge; it's huge and it's heavy and it's beautifully framed and matted, and every time I walk past my kitchen, I see it and smile. Hello, random movie-watching boys from the 1940s! Thank you for making my day a little brighter today!
Basic White 32-Piece Dinnerware Set (Plus Enormous White Platter, Which is Right Underneath)
Let's be clear: I needed more white plates and bowls like I needed a hole in the head (or, say, like I needed more couch pillows.) But these are pretty spectacular white plates and bowls, because for a start, they're square! I don't know about you, but I think square white plates and bowls look pretty classy, and I'm betting I could probably serve up something horribly unphotogenic and you'd still want to eat it because of what it was served in.
Like, uh, the pasta and pesto I made this evening:
Once I figure out where I'm going to put all these new plates and bowls and mugs---not to mention the ENORMOUS platter, like seriously, I'm going to have to place a WHOLE ROAST CHICKEN on it or something, or FIVE THOUSAND MINI QUICHE LORRAINES---I'm going to have to throw a dinner party and have everyone over to eat off my fancy new plates. They're totally going to think they're in a restaurant or something.
****************
All in all, I was very pleasantly surprised by my JC Penney shopping experience---at least the online portion. Since I initially wanted to get this lamp, which turned out to be back-ordered until August, I had a little extra cash left over, and so I decided to venture to the actual bricks-and-mortar JC Penney at Tanforan to see if there was anything in the store that I couldn't find on the website.
And, yeah, that just wasn't as fun as shopping online. For a start, most of the Linden Street stuff was spread out throughout the entire home furnishings department, which meant peering at bath mats I maybe kind of sort of liked and then going "oh wait, no, they're not Linden Street. Can't get those."
On the upside, I did find a few things in the store that I hadn't seen online---like the enormous platter, for instance---which made it sort of like an exciting treasure hunt, and also I had, like, fourteen very nice and friendly store employees come up to me and ask me if I was doing okay and could they help me find something. (Plus, it was totally an excuse to go to Target afterwards, and I always need one of those.)
Verdict? Definitely very pleased. You've come a long way since 1996, JC Penney! And thanks, BlogHer, for letting me go shopping with money that wasn't mine. That's always the best kind of shopping.
43 Comments