So my mother told me that I wasn't allowed to write a special birthday-slash-father's-day post for my dad because it would make him sad and weepy, and then he'd have to close his office door and have a little cry, and that could get kind of embarrassing for him, because henceforth---I would imagine---no-one would ever take him seriously in meetings. And so I promised that I wouldn't.
And yet it's his birthday today, and Father's Day on Sunday, and because I haven't actually got him anything else (um, yet?), I thought a little recognition couldn't go amiss.
And so I hereby present you with a list of things I like best about my dad, and if you would like to add your own favorite thing about your dad in the comments and then direct him here on Father's Day to read what you said about him, that would be fun too. Wouldn't that be fun? So please, feel free to go ahead and do that and pretend it was your own idea, and I will promise not to tell your dad that this very touching "present" was actually pretty much just a last-minute act of spontaneity that didn't cost you a penny. As long as you promise not to tell mine about the time I drank half the vodka in the liquor cabinet and then filled the rest of the bottle up with water.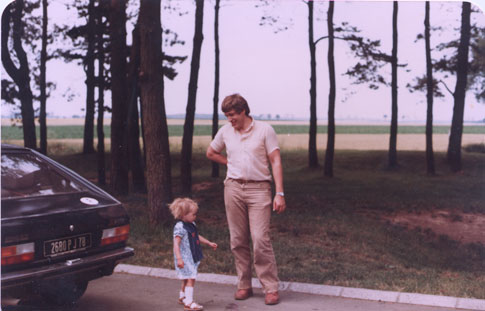 (Um, just so we're clear, I was not two when I did that, by the way; there wasn't supposed to be any juxtaposition between story and photo. Although I must admit, I do look a little tipsy in this picture, don't I? "Can you walk in a straight line please, ma'am? Can you blow into this breathalyser? Hmm, well, how about just brushing your hair?")
Anyway! Some Things I Like About My Dad Include The Following:
* When he hugs you hello or goodbye, he wiggles his bottom back and forth. I don't think he knows he's doing it---or, at least, I don't think he means to---but it's equal parts hilarious and endearing. And also sometimes a little embarrassing. You know, just in airports.
* When he gets food in the corner of his mouth while eating and someone points it out discreetly, he just raises an eyebrow and says "fur spater" ("for later"), like, hey, it ain't no thang, I'm just going to eat this errant piece of lasagna this afternoon when I feel like a snack. (Um, then he dabs it away, of course. He's not crazy.)
* He will always drive you somewhere if you need to go there. Also, he will always pick you up.
* And when he drives you there or picks you up, he only has to do it once before he's memorized the way. If you need to go there again---even if it involves a series of complex one-way streets and sudden right-hand turns---he's on it, man. He's like one of those GPS units. Except without the annoying voice.
* He will paint your toenails. No, really! Even if you are sixteen and moody and atrociously sunburnt in Mexico and wearing some sort of strange knock-off platform Birkenstocks and a pair of Oakley sunglasses purchased in Chinatown. Also, he will do a good job. There will be barely any smudges.
* He will pretty much always be on time for you. Actually, he will pretty much always be early.
* If he likes something, do you know what he says? He says "well, isn't that the business!"
* If you can't finish something, he'll eat it for you. You can be sure of that.
* When I was little and I had terrible earaches, he'd lie with me in the middle of the night and tell me stories about a magic penny that traveled from person to person, going from wallets to cash registers to pockets to gutters, and he never got tired of making up a new installment to keep me distracted. When it got really bad, he told me to wiggle my toes through the pain until it was gone. Twenty years later, I still wiggle my toes when something hurts.
What about your dad, Internet? Tell me your favorite thing about him.