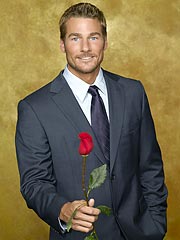 Well, here he is, ladies and gentlemen, Brad Womack: the fine young stallion ABC has chosen for the newest season of The Bachelor, and a guy whom my friend Alison described as looking like "that Sigma Chi who'd slip a roofie in your drink when you weren't looking." I mean, is she right or is she right? I think she's right. You should also know that the guy happens to own a bar called The Chuggin' Monkey---please note the dropped "g" on "chugging" as I really think that's the classiest part---where I'm willing to bet that bespectacled blonde co-eds sit around reading Kant and drinking hot cocoa with skim milk while sedate young upperclassmen in argyle sweater vests adjust their monocles and challenge each other to a quiet game of chess. I mean, it just sounds like that sort of place, don't you think?
Oh look, there's even a MySpace page! And as you can see, that's exactly what's going on!
So, The Bachelor is set to start again on September 24th, and truthfully, I'm not entirely sure how I feel about that. On the one hand, I'd like to reinstate Secret Bachelor Tuesdays---which started out during the Travis "No Top Lip" Stork season, and then continued with the Andy "No Top Lip" Baldwin season, sadly missing the intervening Prince Lorenzo Borghese season because I was traveling in Southeast Asia (although I'm willing to bet that he, too, had no top lip)---but the thing is this: they started out fun and then sort of got...less fun. This was mainly because each episode was only 60 minutes during Travis Stork's reign of shame, but then progressed to a slightly unbearable 90 minutes during the Andy Baldwin years. And when you're reading (and writing) about rose ceremonies and hot tubs and low-cut dresses, bitching and backstabbing and dumb-as-rocks contestants, 90 minutes is a lot of minutes. And that translates to a lot of words, many of which a lot of people (hello, sensible readers who don't watch The Bachelor! Good choice on your part!) don't really care about.
So since the Internet is a democracy and all---plus, I'm incapable of making a decision, like, seriously, not even about where I want to sit in a restaurant, it's sort of like a sickness---let's take a vote: keep Secret Bachelor Tuesdays and start them again for this new season---bearing in mind that they take an age to read (and write), and probably don't appeal to half the people who come to this site---or let them slink out slowly and quietly while they're still vaguely respected, sort of like Hugh Grant should have done a few movies ago? The choice is yours; please feel free to chime in.
A) Secret Bachelor Tuesdays, I'd like to get to know you better. Will you accept this rose?
B) Secret Bachelor Tuesdays, I'm just not feeling the connection. In fact, I don't think you're here for the right reasons. It's been an incredible journey, but I'm going to say goodbye. Here, let me escort you to the limo.
Don't get me wrong, I'm going to be watching either way. What, you thought I'd pass up the opportunity to see Brad Womack getting the women drunk on two Screwdrivers apiece and making them dance to 50 Cent on the bar of The Chuggin' Monkey? Are you kidding? I may not be able to make a decision, but I do have a soul.