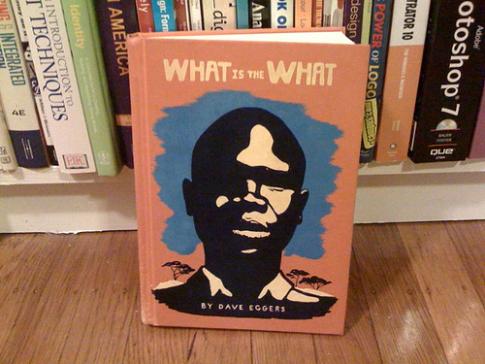 I have not, for a very long time, read a book that has made me need to take a deep breath and have a good old cry at the end of it, a book that has had me weeping---and yet simultaneously laughing, I kid you not---through the last fifty pages, a book that I have forced myself to ration out even as I tore through it, desperately dreading the moment it would come to an end. I think the last book I read like this was The Namesake by Jumpha Lahiri or perhaps Extremely Loud and Incredibly Close by Jonathan Safran Foer, and still, even then, I don't think either of them managed to have quite the effect on me as this one: What Is The What by Dave Eggers.
This book sat on my bedside table for a year and two months, after Sean bought it for me for my TWENTY SEVENTH birthday (in case you're not counting, I turned twenty eight in February). I'd wanted to read it, yes, but only in a sort of vague, peripheral way; although I'd very much enjoyed Dave Eggers' short short stories every week in The Guardian, I'd found myself surprisingly disappointed by A Heartbreaking Work Of Staggering Genius, which I'd thought brilliant at first, and then increasingly self-conscious, precious, pointless, and forced. While my hopes had been resurrected a year or two later with You Shall Know Our Velocity, which turned out to be one of my top ten favorite books of all time--well, top twenty at least---I still didn't harbor any particular hope for What Is The What. It sounded interesting, sure, but I am fickle and lazy, and one of my character flaws is that I far prefer to find a new book at the library than start one of the several unopened ones sitting on my bookshelf or bedside table.
And then I started this one and couldn't stop.
If you are looking for something to read, I cannot recommend it enough. I know how some people feel about Dave Eggers---that he's overrated, that his prose is overwrought---but in this case, with this book, I have to disagree. It's amazing. It's almost perfect. It's the best thing I've read in at least the last twelve months, and like all magnificent books, it bears the hallmark of a truly good read: when you finally come to the end of a book like this, you are, for a good few hours at least, not entirely sure how you'll go on.
10 Comments