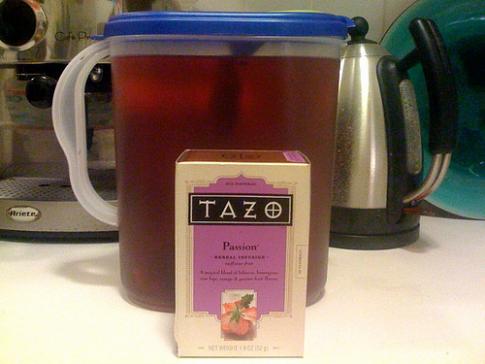 So my new favorite thing at the moment is this: I throw six of these Tazo teabags in "Passion" flavor into an enormous pitcher, then I add six packets of Splenda. I fill my electric kettle up to the brim, boil it, then pour the water into the pitcher---then I do it all over again until the pitcher is completely full. I stick the whole thing in the fridge, and don't drink it until the next day.
This is the most refreshing drink you can think of. It's crisp and tart and cool, and I don't even bother pouring it over ice (so I guess it's not really iced tea, in this case; more like cold tea.) I make the pitcher on Sunday night and it usually lasts me a whole week.
I've tried it with peppermint tea from Trader Joe's as well, but it wasn't quite as good. When I drink hot tea, I drink the good old English stuff with milk and sugar. When I drink cold tea, I drink this.
(PS: I know you can get this at Starbucks, but why bother when you can make it at home for a whole lot less money? Plus, unless you specifically ask for unsweetened, they often give you the sweetened version at Starbucks, which has sugar or simple syrup in it already. This way, you get to make it how you want it.)
17 Comments