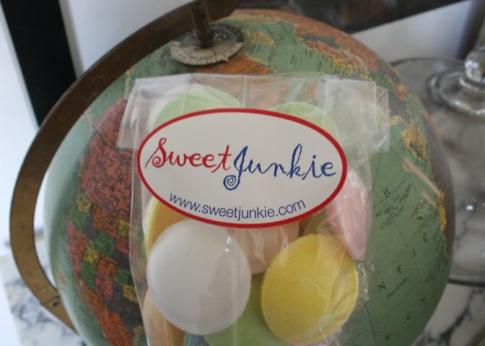 I am not so much a chocolate person as I am a candy person. There's a difference, I think. I like gummy sweets and squishy sweets and big crunchy rocks of boiled sugar that a person could lose a filling on. When I was at school in England, nothing made me happier than whiling away an afternoon with a good book and a white paper bag of sweets from the newsagent up the road. I've written about this before, about my nostalgic obsession with traditional English candy. And it might not make my dentist very happy but I have now found a place to buy it in bulk.
Sweet Junkie is a company in England that specializes in the sort of British sweets I was eating in 1994 and my parents were eating in 1964 and my grandparents were probably eating in 1934, though my grandma had all her teeth taken out on her 21st birthday and replaced with false ones (no really, she did!) so she has probably blocked all of her sweet-eating from her memory. They have all my old favorites and then some, and if you have never tried British sweets before, I highly recommend that you do. Could I perhaps interest you in a sugar mouse?
I know, is that not the cutest thing ever? I couldn't resist adding one to my most recent order. Awww, cute little mousey-wousey! Now come here so I can bite your head off.
If you are taking your first steps into British Sweetiedom and wondering what to order, I will tell you that my favorites are Apples and Custards, though I am particularly partial to Lemon Bonbons as well. If you are a licorice fan---and you either are or you aren't, I've found---I highly recommend Licorice Comfits. When I am feeling wacky, I indulge in a Flying Saucer or two (they're the crazy-looking ones in the picture at the top) and I would never say no to a Rosy Apple. And if you yourself are trying to avoid having all your teeth taken out and replaced with false ones, you might be interested in the sugar-free versions of some classic British favorites, a few of which I added to my most recent order and found quite pleasant.
Anyway, in case you're not Halloween candied out already---I bought a large bag of mini packets of Skittles, knowing FULL WELL that we wouldn't get any trick or treaters---I thought I'd share my new favorite place to get proper English sweets. Let's not tell our dentists.
16 Comments