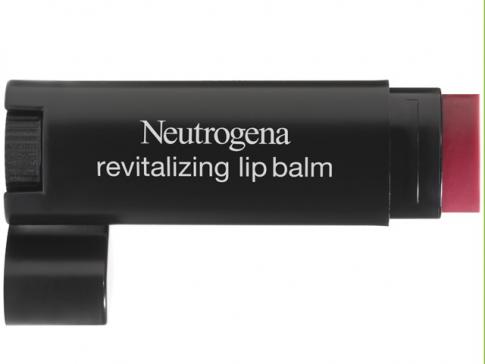 Look, I didn't think it would happen either. I didn't think anything would replace my beloved Cover Girl Lipslicks in Daring, which I have written about here and here, and which I fully believe looks fabulous on anyone. But then one day I picked up this new lip balm at Target—it's by Neutrogena and it has the staggeringly creative name of "revitalizing lip balm," which I can only assume means the Neutrogena copywriters all had raging hangovers that day and just murmured "eh, call it whatever you want" from behind their dark shades and half-full bottles of Gatorade—and what do you know, it came pretty darn close.
What, you thought I was going to say it was better than the Cover Girl Lipslicks in Daring? It's not. Nothing will ever be better than Cover Girl Lipslicks in Daring, at least not for getting that perfect, berry-ish, maybe-they're-chapped shade that I've been trying to achieve my entire life. But this new Neutrogena Revitalizing Lip Balm has a few things going for it: for one, a single tube of it lasts a lot longer than the Cover Girl, and for another thing, the packaging is way less cheesy. It's slightly lighter and more "balm-ish" than the Cover Girl, which makes you feel less like rolling your eyes at yourself when you swipe a little on for the gym—oh come on, you've done it too (haven't you done it? Please say you've done it. Those mirrors in the weight studio just aren't flattering)—and it's got SPF 20 for protecting your lips.
I've been wearing it in "Sunny Berry," which isn't as, well, daring as "Daring," but it's a lovely, rich, moisturizing berry shade all the same. Have you tried this stuff? Do you like it? It's not going to be replacing my good old Lipslick, trust me, but it is the first thing that's challenged it in the last six years.
(I hate that I have to say this, but in case it's not obvious, all Splendid Things are always, always, ALWAYS things that I've found on my own, bought with my own money, and decided to write about just because I think they kick ass.)
37 Comments