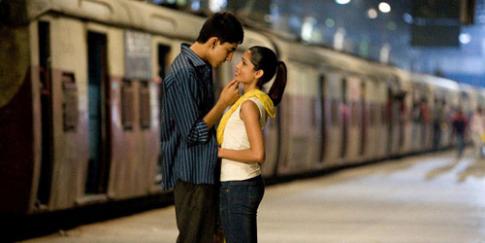 How great was this movie?
Wait, what do you mean you haven't seen this movie? Hasn't the incessant buzz about it on the Internet had you covering your ears in surrender yet? Everywhere I went last week, all I heard was Slumdog Millionare this, Slumdog Millionaire that. So finally I was like, alright, fine, it's a random Tuesday night, we are going to gather up our friends, inhale some falafel sandwiches, and go SEE THIS MOVIE ALREADY.
I was a little worried about the hype. I was nervous, specifically, about what I've come to call The Juno Effect. Don't get me wrong, I thought Juno was a good movie and I enjoyed it as much as everyone else, but by the time I got around to seeing it---several weeks after it came out---I'd basically heard the plot summary from every talk show host, talking head, and entertainment columnist ever born, as well as roughly 90% of the pithy one-liners from all the trailers. If I'd just seen it on my own without having it shoved down my throat beforehand---"oh my god it's so good, it's so good, you have to see it"---I'd probably have liked it even more.
Luckily, The Juno Effect did not befall Slumdog Millionaire, a movie I saw last night with some of my favorite people, and which I enjoyed immensely, pretty much like every other person in the world. It was simultaneously harrowing and uplifting, hilarious and heart-wrenching, serious and bent on not taking itself too seriously. Sean and I talked about it all the way home and into this morning as well, and if you haven't seen it yet, I highly recommend you do. I might even take my parents next week when they're in town, and the last time I saw a movie twice in the theatre was........well, wow, I don't actually think I've ever done that. And since it costs an extortionate $10.50 to see a movie in San Francisco these days, that's high praise indeed.
16 Comments