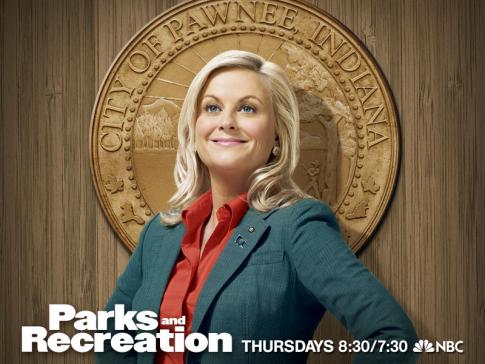 Are you guys watching this show? I mean, honestly, it's genius. We started off pooh-poohing it, mostly because it looked like a rip-off of The Office---which we also started out pooh-poohing because it looked like a rip-off of the British Office---but now I would hasten to go out on a limb and suggest that perhaps we like Parks and Recreation even better than The Office. (Not as much as 30 Rock, though. Boy, there is a real shifting hierarchy to this Thursday night TV! We live such wild lives! Come over one night and play Scrabble on the couch with us while we drink hot cocoa and talk about our overdue library books!)
Anyway, like The Office, Parks and Recreation is a "mockumentary"---I think "mockumentary" is almost as cringe-worthy a word as "shopportunity" from those stupid Marshalls commercials, what do you think?---but the jokes are sometimes just a little.....sharper. The first season started off pretty slow, so don't let that put you off, but the current season has improved by leaps and bounds. It's set in fictional Pawnee, Indiana---which even has its own (hilarious!) website---and while the eye candy on the show doesn't quite measure up to that provided by one Mr. Jim Halpert (and how could it?), it's not exactly full of slouches either.
Are you watching? You should be. I mean, maybe it would be less annoying when I quoted lines from the show if you were.
35 Comments