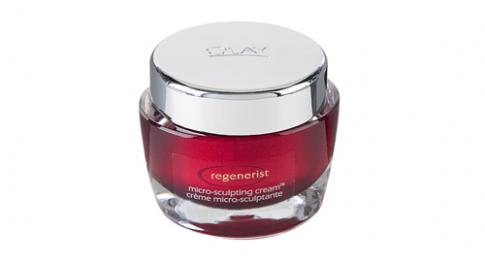 So my Mario Badescu Seaweed Night Cream ran out and I was looking for something new. It's not that I didn't like the Mario Badescu Seaweed Night Cream anymore, more that I was just too lazy to order it, pay for shipping, then wait a week for it to arrive. My skin was looking parched and thirsty and---just between you, me, and the rest of the Internet---not unlike old shoe leather. I needed something now.
I'd heard good things about Olay's Regenerist Microsculpting Cream---mostly that it was the poor man's Creme de la Mer---so I decided to take a chance. I've always had a soft spot for Olay products; that's what my mother has used for the entire time I've known her, and man, have you seen her lately? Something's working there, is all I'm saying.
So I walked to the drugstore and bought it---and this is where I should warn you that it's a little pricier than what you'd normally expect to pay for a drugstore cream---then slathered it on that very night. I slathered it on for the next 14 or so nights, in fact, and let me tell you, at first I was not particularly impressed. It moisturized, sure---my skin just drank it up, really---and I did notice that my face felt a lot softer, but it also made me break out like a 14-year-old boy. It wasn't all at once, the breaking out, more just that every few days I'd get one big zit in a really random place on my face. The zit would last approximately 48 hours, then disappear as soon as it arrived.......only to pave the way for a new one the next morning. In fact, I started taking bets on where the next one would appear.
But just when I was about to give up on this moisturizer altogether---yes, my skin was feeling soft and looking fairly radiant, but a person can only hide an unsightly whitehead IN THE CREASE OF HER NOSE for so long---a minor miracle happened. The final random zit disappeared, and one morning after applying the moisturizer before bed as usual, I woke up blemish-free. And then the next morning I woke up blemish-free too. And the next one and the next one and the next one after that. And now, as I type this, all the "training zits," as I like to call them, have gone away and this moisturizer is really getting down to business.
Which is to say, keeping my skin soft, smooth, glowy, and (dare I say it?) young-looking. Or at least younger-looking. I finally, finally love it. Though how much do you want to bet that I've jinxed myself now? Five bucks says I'll wake up with a brand new zit tomorrow morning.
18 Comments