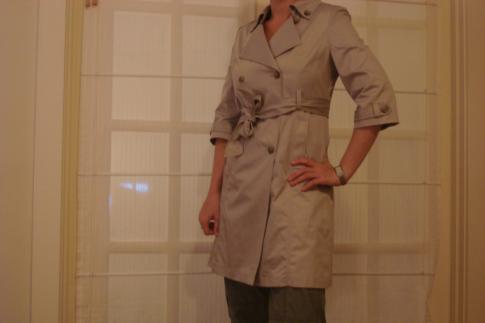 Hey, remember how back in March I was on the lookout for the perfect trench coat? That was five months ago and I think I've finally found it! Thank goodness this wasn't a Severe Trench Coat Emergency or anything, eh?
There was one I really liked in Zara, liked so much in fact that I went back to visit it a few times a week. I tried it on again and again, and every time I was close to buying it, a little voice inside my head would say "meh, it's not quite right." Because it wasn't. And neither was the price. I mean, I could have justified it, I guess, but when you're paying that much for a coat, it sort of has to automatically transform you into Jennifer Garner, you know? And bring you a cup of coffee in the morning.
So this afternoon, after a happy hour glass of champagne or two in the sunshine with my co-workers, I decided it would be a great idea to go and do a little shopping. I was actually going to burst into the Apple Store and finally buy that new Macbook you all convinced me to buy months ago---because the latest thing to go on my rapidly deteriorating iBook G4? THE TRACKPAD, TALK ABOUT ANNOYING---but luckily for my credit card, I got waylaid in Old Navy instead. And guess what I found there?
Oh wait, I guess I kind of gave it away already: the perfect trench!
It's exactly what I wanted---right down to the three-quarter length sleeves and open neckline---and the best part is that it only cost me $49.50, which is less than a third of what that Zara trench cost, which makes me very, very happy indeed. I can't seem to find it on the website, sadly, which means I had to, uh, take a picture of it myself. Sorry about that! Please be assured, at least, that I have since improved my belt-tying technique. Quite dramatically, in fact.
25 Comments