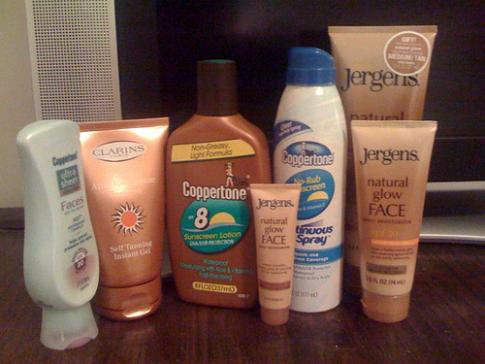 I started very, very tentatively packing for Singapore this evening---which is to say that I kind of assembled a bunch of stuff in random piles on my bedroom floor---and I kept putting sunscreen-type things in a corner together before I realized that oh my god, I have, like, fifteen different sunscreen-type things to take to Singapore. And also: wow! This means I am going on vacation!
In the illustration above, we have three actual sunscreens---made by Coppertone, of course, which was chosen purely because it smells like summer---in various SPFs and different formulas (lotion! continuous spray! waterproof! for faces! won't make you break out like a pizza!)
Then we have some Clarins fake tan, which, if you ask me, is the best fake tan there is, and Jergens Natural Glow for Face, Jergens Natural Glow for Face plus SPF20 (which I use as a moisturizer most days) and Jergens Natural Glow for Body, because the body is an entirely different beast from the face and will not stand being messed with.
Aaaaaaaaand, this is as far as I have got with my packing. Or rather: "packing." Can you tell I found a new Target today?
16 Comments