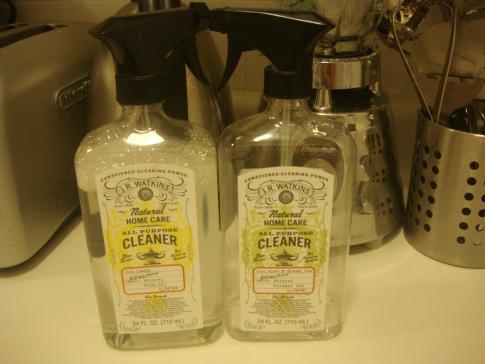 I've been fairly conflicted about my choice of household cleaner recently: on the one hand, I like to know that I'm buying something decent-ish for the environment---as well as relatively unlikely to cause my potential children to be born with three and a half heads each---but on the other hand, nothing gets my countertops cleaner and whiter and more sterile-feeling than good old Clorox.
(Well, once I used baking soda and vinegar and lemon juice or something, after I'd seen it on How Clean Is Your House?, and that did a fairly okay job too, but still, it wasn't a patch on the Clorox, if we're honest. It wasn't particularly practical, either. Also, my countertops smelled like a salad for days)
So I've tried Method's sprays, I've tried Mrs Meyer's, and I've even tried Clorox's new attempt at trying to be trendy and green. And they all did a pretty good job---I'm a big fan of Method for other things around the house---but none of them were truly amazing. Am I perhaps expecting too much from my kitchen spray?, I thought. And then: Yes. Maybe so.
But then I was in Target the other weekend---along with half the population of San Bruno; I will be repeating that experience just as soon as I've GOUGED MY EYES OUT WITH A BLUNT BUTTER KNIFE---and my eye just happened to fall upon the display of J.R. Watkins Natural Home Care products.
I shall admit it: it was the label that drew me in first. I liked the design, and I hadn't tried this particular product out before, so I threw a bottle in the cart---aloe and green tea to start; later I went back for the lemon---and went home to try it out. (Hello! Welcome to my exciting life! Maybe next time we'll dust the sideboards!)
Well, let me tell you, this stuff is FANTASTIC. (Not Fantastik, mind you. Fantastik actually kind of sucks.) I'm not sure exactly how seriously to take its claim of being "pure, natural, and organic," but it gets things clean, it smells good (but not overpowering), and it really, really, really does cut through all that gross grease and grime. And now that I've realized that just I've written approximately seven hundred words extolling the virtues of a kitchen spray, I'm going to go bake a tuna casserole, watch a few of my stories, and yell at those pesky kids playing out on my lawn. Wake me up if you find a coupon for prune juice.
17 Comments