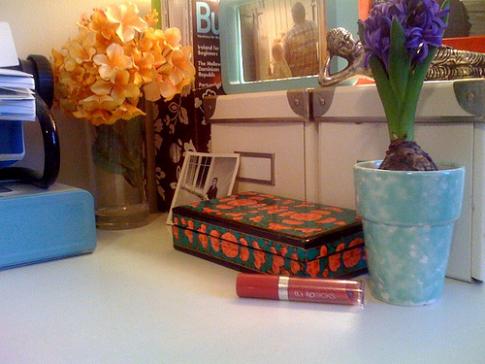 When I was about 18, my lips suddenly started getting really chapped once in a while. And, you know, that kind of sucked and all, but what didn't suck was the color they'd go when they were chapped: it was the most perfect shade of pinky-red, like I was wearing the world's most natural-looking lipgloss. And so I almost started hoping for them to get chapped, because for two weeks I'd have some seriously awesome-looking lips, but without, you know, the hassle of reapplying lipgloss every few hours.
And so then I decided to make it my life's work to find this shade, this perfect chapped-lip color, in a product that was already on the shelves. And sweet cracker sandwich, if I didn't finally find it SEVEN YEARS LATER, when I was 25 and browsing the aisles of a Charleston CVS one lunchbreak to delay going back to my office. But believe you me, there was a lot of trial and error (heavy on the error) before that.
Ladies and gentlemen---hey, you never know---I present to you the Cover Girl LipSlick in "Daring." It costs less than four bucks at any drugstore or grocery store or Target near you, and it will give you that perfect, natural-looking, Why Yes I Have Been Frolicking On A Windy Cliffside kind of color. It's less sticky than a gloss and less waxy than a lipstick: it's kind of like a sheer, berry-ish tint. I am fairly convinced it will suit everyone.
Seriously, if I had a penny for every email or Flickr comment I've had asking about the shade of lipgloss I use, I'd be....well, I could probably buy a few years' worth of Cover Girl LipSlicks, that's for sure. So I'm telling you now, once and for all, this stuff is the best. Honestly, I've tried everything in Sephora---you know, just in case!---and I always keep coming back to this. (And yes, you're not going crazy, I have written about it before. But the question keeps coming up!)
The other Best! Thing! Ever!, by the way, is my newly-reorganized desk. Check out my new hyacinth bulb. It's Spring!
26 Comments