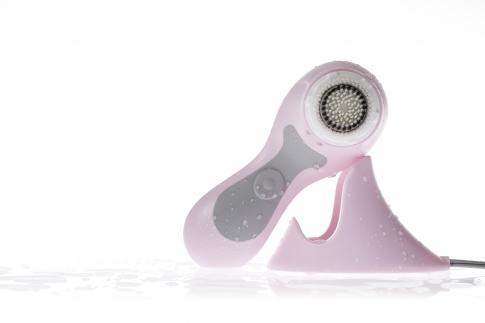 About six months before my wedding, I decided I needed to sort my skin out. I don't have bad skin, per se, but my pores are a little larger than I'd like them to be and I occasionally break out on my chin. For my wedding, I wanted flawless skin, porcelain skin, the kind of skin you see on china dolls or Gap models or trust fund babies. Or, hell, just on babies.
I'd been wanting to try the Clarisonic skincare brush for, ooh, about a year, but the daunting price had always put me off. "How good could it really be?" I thought. And "what if I don't like it and then I've wasted all that money?" There is nothing that scares me more than regret, you see, particularly when it's regret about a purchase. I think whoever invented the term "buyer's remorse" was looking at a picture of me when they did it. And in the picture, I was crying over my credit card statement.
So after much to-ing and fro-ing and obsessive review reading, I finally splurged and bought the Clarisonic skincare brush on drugstore.com when they had one of their 20% Off Friends and Family events (psst, they're having one now! Ends on Friday!) I used an old AmEx gift card I'd been saving for something special, plus I bought the pink version so that a portion of the proceeds went to a breast cancer charity.
Yeah, it was a lot of money for something a little superfluous, but I rationalized that a) I'd use it every day (twice a day, actually) and b) it was a whole lot more cost-effective than getting a bunch of facials. Isn't that what people in Hollywood to do get such amazing skin? Have a bunch of facials? That pretty much wasn't in the cards for me, and it definitely wasn't in the budget. So with a big important life event coming up featuring photos I'd want to cherish forever, I figured this was the next best thing.
And oh my god, Internet. The Clarisonic skincare brush changed my life.
I don't know how else to say this to you, other than it's totally worth it. My skin is clearer, softer, smoother, and generally just in better condition. It even looks kind of glowy. My night cream and moisturizer both sink in much more easily, which means I end up using less of each. The routine with the Clarisonic brush takes 60 seconds twice a day, the first one of which I do in the shower, since the brush is entirely waterproof. I use my regular old facewash with it---Mario Badescu Enzyme Cleansing Gel----and once a week, I unswivel the brush head and rinse it in warm soapy water to keep it clean. (Gross alert: the few times I haven't done this, I've noticed that I start to break out.)
This isn't a paid product review; no-one's giving me a dime to talk about it. I bought this thing with my hard-earned money (well, my hard-earned gift card. And it was hard-earned too: remember when I had to patrol the Las Vegas airport from 5am to 5pm last year?) I just wanted to tell you---in case you're on the fence about buying a Clarisonic skincare brush yourself---that I totally, totally love mine. It was worth every penny. And, most importantly, I like the way my skin turned out in my wedding pictures.
Oh come now, like I'd miss an opportunity to show you one of my wedding pictures.
54 Comments