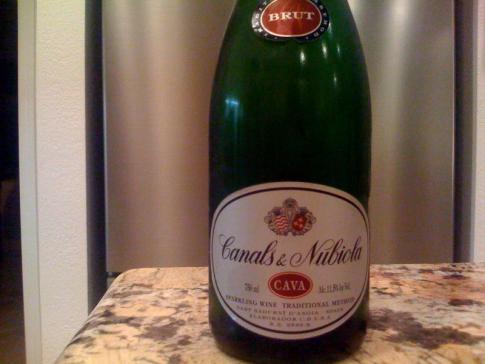 Look, I'm pretty sure I don't have A Problem, but I've discovered I'm just a whole lot happier if I've got a bottle of champagne in the fridge. Is there anything better after a long day at work than a tall, golden glass of bubbly and a hunk of cheese? It just feels so decadent, doesn't it, even if you're wearing your sweatpants. Wait, what am I saying, especially if you're wearing your sweatpants. Give me a glass of champagne over a glass of wine any day of the week. In fact, I'm drinking one right now.
In order to keep myself in champagne, however, I can't be drinking Veuve Cliquot. In fact, I can't actually be drinking champagne, if we're honest, but rather cava or prosecco or sparkling wine. This isn't a problem as long as one finds the right cava or prosecco or sparkling wine, and Internet, I believe I have done just that.
I'd like you to meet my friend Canals & Nubiola which, to my mind, is one of the best sparkling wines under ten bucks a pop, and trust me, sparkling wines under ten bucks a pop are kind of my special subject. (Also, check it out, it's currently on super sale at BevMo! It's $5.99 a bottle instead of $9.99! Go and buy a case! But not if I've bought them first!)
Sean and I first tried this champagne at the wedding of some of our very good friends in San Francisco, who liked it so much that they then served it at our engagement party as well, where it went down very smoothly. So then when it came down to choosing the champagne for our wedding, I submitted my family to about eighty-seven blind taste tests---you think I'm joking, but I'm really, really not; I have never consumed so much champagne as I did in the six months after I got engaged---and this guy was the clear winner, even up against some far more expensive brands. Plus, when I went with my mother and sister to buy four cases of it at BevMo a couple of weeks before the wedding, several employees complimented us on our choice and said they each had a bottle or two at home in their fridge.
This really was our cart. I cannot possibly tell you how much fun it is to buy that much champagne. Only P. Diddy and I know the feeling.
So if you're looking for a sparkling wine at a great value---and with New Year's Eve on the way, who isn't?---this one has the Nothing But Bonfires seal of approval, which really just means I think it tastes pretty darn delicious. Especially in your sweatpants and with a hunk of cheese. Those two are kind of optional, though. It tastes equally as good in a wedding dress.
22 Comments