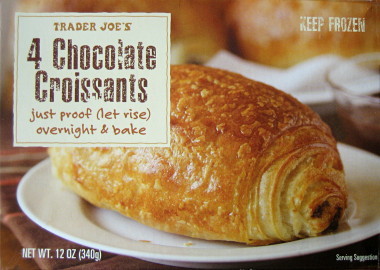 I got this crazy idea in my head that I wanted to eat a pain au chocolat on the morning of my birthday. Yes, I did just call it a pain au chocolat and not a chocolate croissant, partly because one of my most admittedly ridiculous pet peeves is the mispronunciation of the word "croissant." Look, I know we can't all be Gerard Depardieu, but when I hear "cruh-saaaawnt"---or, worse, croissandwich---it makes me want to stab myself in the eye with a butter knife, a butter knife that is coated in butter from the croissant I just buttered. I'll make you into a croissandwich, buddy. Look sharp.
(On the other hand, it really bugs me when people who have hitherto been speaking with no trace of a Spanish accent whatsoever suddenly pronounce Barcelona as "Bar-thel-ohna." So I guess I don't really have a leg to stand on.)
(I bet Gywneth Paltrow says "Bar-thel-ohna," what do you think?)
Anyway. I saw this package of chocolate croissants in Trader Joe's last week and surveyed it with low expectations. At the same time, however, I knew I would be too lazy on the morning of my birthday---not to mention too unshowered and too pajama-clad---to run around looking for a bakery in which to buy my own chocolate croissant. So I went back and forth, back and forth, back and forth a little, until the low expectations were tempered by the knowledge of my laziness and I put the package of frozen buttery goodness into my cart and hoped for the best.
INTERNET, I WAS TOTALLY BLOWN AWAY. The pain au chocolat I had on the morning of my birthday was quite possibly the flakiest, tastiest, butteriest, chocolatiest pain au chocolat I've ever had. You just put them on a baking sheet the night before to let them rise, then stick them in the oven for 20 minutes the next day. When they come out, you would swear you'd been transported to a smoky little cafe in Montmartre. They are exceptional. Delicious. Amazing. They also have 18 grams of fat---yes, IN EACH CROISSANT---but who cares when you're nibbling on a little piece of heaven like that?
If you do not live near a Trader Joe's, I apologize. This post has probably angered you heartily. If, however, you do, I suggest you run---run, not walk! It'll help later when you want to eat 18 grams of fat in a single sitting!---to your nearest Trader Joe's, hightail it to the freezer section, and pick up a box of these bad boys. Then call me. I'll come over. There are four in a box. We can do some serious damage.
45 Comments