Sometime around this time last year, I made a committed decision to try and read two books a month. Two books a month? you're thinking. That's child's play! Why, I read two books before I've even had breakfast in the morning, and then I read a third while I'm brushing my teeth.
(You're not really thinking that, are you? And how many times have you accidentally splattered your toothpaste on the pages? Do you wear a bib when you do this? You're crazy, man.)
So I decided to try and read two books a month, and I decided to write down the title of each book—in my planner, on the last day of the month in which I'd read it—so I wouldn't forget what I'd been reading all year. This happens to me often, by the way: on more than one occasion, I've brought a book home from the library, got two or three chapters into it, and then realized that I've read it several months or years before. And yes, I know that Goodreads was invented specifically for this very purpose, but I've tried (and failed at) Goodreads several times over and I didn't fail at this, which I guess just means I like the lo-fi experience of putting pen to paper to record the books I've read. So sue me!
(Don't sue me. I'm terrible at confrontation and I don't have any fancy blouses to wear to court.)
If you do not give a pickled pickle about the twenty-eight (and a half!) books I read this year, this is your cue to leave; I will escort you out now with a murmured compliment about how well you're looking, and we'll meet again in the next post. If however, you are in the market for something new to read, here's what I buried my nose in last year. Wow, that line did not summon the mental imagery I expected it to summon. PAGES. I was talking about pages.
JANUARY:
Life Would Be Perfect If I Lived In That House, Meghan Daum
Damn it, I really wish I'd written this book. It's funny, poignant, and based on a subject close to my heart: moving house a ridiculous number of times. When I got to the end, I wanted to read it all the way from the beginning again. Then I wanted to call up Meghan Daum and pitch myself as her newest friend. I did neither, but there's always 2012.
Faithful Place, Tana French
Have you read any other books by Tana French? I suggest you start with In The Woods, then read The Likeness, then pick up this one. After that, you can email me and blame me for the fact that you haven't got anything done for the last 72 hours, because you've been awake that entire time, caught up in the mystery, reading everything in an Irish accent. I actually have to schedule my reading of Tana French's books for times I know I can stay up until 2am, because they're so full of suspense that there is really no way to put them down.
FEBRUARY:
Prospect Park West, Amy Sohn
Ah, failed already: only one book this month! Whatever, February's a short one and I was busy being young and alive. I'm sort of embarrassed to admit that I liked this book so much—it's a bit of a "romp," if you'll excuse the word—but it was highly enjoyable in a purely escapist way. And when I went to Park Slope a few months later, I totally found myself keeping my eyes peeled for the characters. One of whom was Maggie Gyllenhaal, so, you know, could have happened.
MARCH: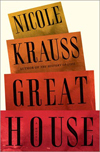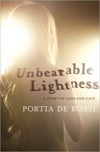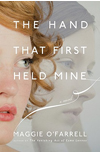 Great House, Nicole Krauss
Now this is more like it: I doubled my target in March and read twice the number of books I'd been planning to read. Great House—which tells the story of several people who own the same writing desk over a period of many decades—was one of my favorites of the year, but please note that you will need to like weeping heavily if you attempt it yourself. I still maintain that The History Of Love is Nicole Krauss' best work, but I enjoyed the interlocking narratives of this powerful novel all the same. Wow, that was a pretty fancy sentence. What do I think I am, the New York Times?
Unbearable Lightness, Portia de Rossi
Don't hate, I read Portia de Rossi's memoir. It was actually fairly interesting, even if it did take about five minutes cover to cover. I don't have a particular fascination with Ally McBeal, eating disorders, or Portia de Rossi herself, so I'm not even sure what made me pick this up in the first place, but it was a quick read and fairly eye-opening.
Room, Emma Donoghue
I'm willing to bet there are more people on the Internet who have read this book than those who haven't, because everywhere I went in 2011—and by "everywhere," I mean Twitter—there was someone encouraging someone else to read Room. I enjoyed it, of course—fascinating premise, unusual narrator, suspense-filled plot—but I did sort of think it switched gears a bit about two thirds of the way through. Still, if you haven't read it, I recommend it, particularly on a flight, which you will soon find will fly by.
The Hand That First Held Mine, Maggie O'Farrell
Ehhh. You know, Maggie O'Farrell wrote a really great first novel (it's called After You'd Gone) but I haven't been a huge fan of anything she's done since. I can't even remember what this one was about, that's how little impression it had on me. Oh wait, yes, I remember; something happens to somebody a long time ago and it has an effect on somebody in the future. I guessed the ending about halfway through.
APRIL:
When Will There Be Good News?, Kate Atkinson
Kate Atkinson can do no wrong. If you haven't read anything else by her, start with Behind The Scenes at the Museum, which I vividly recall reading through a terrible hangover when I was supposed to be revising for my A-levels. This book—one of several in which she delves into detective fiction, which, trust me, I didn't think I'd like either until I tried it, but see again: Kate Atkinson can do no wrong—isn't quite as earth-shattering, but it's still fantastically written. It centers around a private detective called Jackson Brodie who crops up in a few of her other books too.
One Day, David Nicholls
My brother Tom sent this to me for my birthday, full of exclamation about how it would be THE BEST BOOK YOU WILL EVER READ OMG SO GOOD SO GOOD YOU WILL DIE, which I had to take with a grain of salt, given that my brother Tom reads about one book a year. I did find it very enjoyable—it's got a definite Nick Hornby vibe if you're into that sort of thing—but I don't think I was as bowled over as Tom was. (Serves him right for the time I took him to this place in Charleston where I swore up and down he would have THE BEST SANDWICH OF HIS LIFE and then he tried the sandwich—which I paid for, I might add–and was all "Eh. I've had better.)
The Facebook Effect, David Kirkpatrick
This insider bio of Facebook was something I originally started reading as background research for the job I had at the time, but I quickly found that it crossed over from a "work book" to something highly enjoyable and compelling. Two thumbs up if you're curious about the history, invention, and culture of Facebook.
MAY: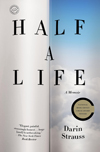 Half A Life, Darin Strauss
When Darin Strauss was in his last year of high school, he accidentally killed one of his classmates in a car accident. What follows is a pretty interesting memoir about loss and guilt; I read it pretty quickly and enjoyed it a lot.
Tiger, Tiger, Margaux Framoso
I sort of wish I hadn't read this, but once I start a book I seem enter into an imaginary contract with it in my head that says I won't abandon it until the very end. And so I stuck out Margaux Framoso's harrowing story of her 15-year relationship with a pedophile, even though it was horribly disturbing pretty much all the way through. I read about 60% of it with my eyes squinched half-shut, marveling that Framoso even survived some of the stuff she survived. Fascinating, but you'll have nightmares for weeks.
Battle Hymn of the Tiger Mother, Amy Chua
The buzz around this book got to be too much, and so I caved and read it in my back yard in a single afternoon on one of San Francisco's uncharacteristically glorious hot days. I know everyone got all up in arms about it, but I thought it was actually pretty entertaining. I mean, it's not like I'm going to use it as a manual for my own parenting or anything, but it was a fairly enjoyable—and very quick—read.
JUNE: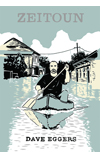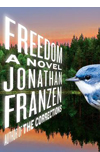 Husband & Wife, Leah Stewart
I picked this up because I'd read something else by Leah Stewart (The Myth of You and Me, about five years ago), even though both the cover and the title appealed to me about as much as a root canal performed by Ashlee Simpson. I actually remembered nothing about it whatsoever until I had a look at the Amazon description, and then I recalled, surprisingly enough, that I really enjoyed it. The plot—husband confesses to affair; wife freaks out—was way less formulaic than it sounds, and the writing was excellent.
Zeitoun, Dave Eggers
Dave Eggers is pretty polarizing, but I am strongly in the "love him" camp. This true story of one man's terrible mistreatment in the aftermath of Hurricane Katrina is hugely compelling. Must, must, must read.
Started Early, Took My Dog, Kate Atkinson
Hey, more Kate Atkinson! I am nothing if not consistent. Apart from having one of the best book titles of the last few years, this clever novel—yes, it revolves around another mystery, though I promise this is not your grandma's detective fiction—was just generally really enjoyable. I've heard they've now made a few of these books into TV adaptations on BBC.
Freedom, Jonathan Franzen
I expected not to like this book, because everyone I spoke to had a pretty lukewarm reaction to it. Personally, I really enjoyed it, but then I like epic family sagas and descriptive, detail-filled prose, so it was hardly a surprise. Plus, I was reading it in Hawaii. That may have helped.
JULY: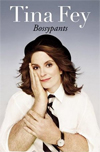 Bossypants, Tina Fey
Is the entire Internet going to turn against me if I confess that I did not find this book the greatest thing since sliced bread? Don't get me wrong, I'm a huge Tina Fey fan, and I enjoyed this book thoroughly. I guess it just felt a bit.....random. Random? Do I mean random? I'm not even sure, just that I was expecting it to follow a chronology or some other sort of organizational device that it never really stuck to. It was hilarious, obviously, but I sort of wanted more from it than it wanted to give me. Okay, Bossypants, I get it; it's not you, it's me.
Bright Before Us, Katie Arnold-Radcliff
I didn't really love this book and I was bummed out, because I really wanted to: it's set in San Francisco, the premise—a teacher witnesses someone jumping off the Golden Gate Bridge while on a field trip with his class—sounded interesting, and the girl who wrote it is about 15 (okay, not really, but she's fairly young and she's an assistant editor at O magazine). It was good, and it had some lovely turns of phrase, but it wasn't my favorite. Wow, Me-From-July, picky much?
AUGUST:
The Kitchen Daughter, Jael McHenry
Failure! I failed again! Only one book in August! This was a good one, though, if you don't mind a spot of magical realism; I'm not typically a fan, but it really worked here. The writing was lovely, the format was refreshing, and the plot—a girl with Asperger's, suddenly orphaned, finds she can summon the ghosts of the dead when she makes their recipes—was wonderfully (and surprisingly) believable.
SEPTEMBER:
In Zanesville, Jo Ann Beard
I'm a sucker for a book set in a small Midwestern town in the 1970s; it's a fairly specific set of criteria, I know, but I just can't get enough. This is a bittersweet coming-of-age story, some parts of which took my breath away with how beautifully written they were. Also how mad I was that I hadn't written them first.
This Is Where I Leave You, Jonathan Tropper
About eleven years ago, I read this fantastic book called Plan B on a 14-hour Amtrak journey to see Sean, and I promptly forgot who wrote it. Fast forward to this year, when I picked up This Is Where I Leave You at random and discovered it was written by the very same guy. Truly, I did not want this book to end: it was uproariously funny, wonderfully human, and just really, really, really well-written. Jonathan Tropper: tied with Meghan Daum to be my new BFF.
OCTOBER:

Swim Back To Me, Ann Packer
I don't typically like short stories much, but I've enjoyed a lot of Ann Packer's other stuff, so I was excited when this finally came in at the library for me (don't tell me you don't use your library's hold system, because it will—and I'm not even kidding—change your life.) I absolutely loved the first story, to the point where I wish Ann Packer had made it into an entire novel, but I couldn't bring myself to care much about any of the others because I just wanted to get back to the first one. The last story linked back to it a little, but not nearly enough to scratch my itch. Man, that first story was so good. I still wonder about the characters.
Silver Sparrow, Tayari Jones
I'm not sure I'd read anything about this subject before—the narrator, Dana, has a father who's married to another woman in addition to being married to her mother; she and Dana are his "secret family"—but I thoroughly enjoyed it. Partway through, the narrative switches to the father's other daughter—Dana's half-sister—and it gets really interesting. I couldn't wait to see how it ended.
NOVEMBER: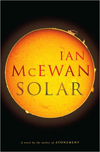 This Beautiful Life, Helen Schulman
Privileged teenage girl sends privileged teenage boy an inappropriate video of herself being inappropriate. Privileged teenage boy forwards it to a friend, who forwards it to a friend, who forwards it to a friend until the entire school—and soon the entire country—has seen it. Parents of privileged teenage boy blame themselves for privileged teenage boy's privileged existence, and everyone falls apart. In the end, I liked it, but I didn't love it.
Juliet Naked, Nick Hornby
You know, it pains me to say this, becase I enjoyed High Fidelity and Fever Pitch as much as the next person, but I didn't so much dig Nick Hornby's latest. Maybe it's because it was the first book I read on an e-reader, but I just never really got into it, and I found so much of it impossible to believe, even for fiction. It passed the time on our long flight to Cape Town, and of course it was entertaining in that particularly Hornby-esque way, but that was pretty much the extent of it for me. Also, it really bothered me that the wacky American rock star was called Tucker Crowe. Tucker Crowe. God, that name just irritated me.
Solar, Ian McEwan
I know a few people who didn't like this book, but I'm not one of them. A little bit of the subject matter went over my head at times—quite a lot of fairly dense paragraphs about solar energy—but it's a testament to Ian McEwan's writing that he can write a book about something I don't know anything about, and I will still find it hugely compelling. I really loved this, from beginning to end.
DECEMBER:
The Lovers, Vendela Vida
Did you know that Vendela Vida is the wife of Dave Eggers? It's my secret dream that I'm going to run into her one day in San Francisco and grab her arm over the produce—I picture us meeting at the grocery store—to tell her how wonderful I think she is. She wrote one of my all-time favorite books (And Now You Can Go), and while I didn't love this one quite as much, I loved it all the same. It's a wonderful portrayal of traveling, particularly traveling alone.
The Book of Joe, Jonathan Tropper
So this was the "half" in twenty-eight and a half, but only because I finally finished it on January 3rd. It's another Jonathan Tropper, which I bought because I liked the other one so much, though this was actually written earlier (although after Plan B). I enjoyed it immensely, though I don't think it holds a candle to This Is Where I Leave You. Read that one first.

****************
Okay, book club adjourned! And now I'm curious: did you read any of these too? Did you like them? Do we disagree in a manner that could get dangerous if we weren't both nice, well-behaved human beings? Did you read anything last year that you loved? Hated? Were only just fairly apathetic towards?