Oh man, really? I have to spell it out for you?
Internet, not since I made the mistake of starting my first day of boarding school by hanging a life-sized poster of Chesney Hawkes above the bed in my dormitory---therefore cementing my reputation as "the girl who hung a life-sized poster of Chesney Hawkes above her bed on the first day" for the next seven years of my life, all the way from age 11 to age 18---have I faced so much open ridicule over a professed love interest.
By the way, in case you would like to see a picture of Chesney Hawkes, who was a British one-hit wonder with an unfortunate mole who was famous for approximately three seconds in late 1991, this is him:
And yep, I'm preeeeeeeetty sure that this is the EXACT poster I hung up over my bed. Oh man, 11-year-old self. Did nobody tell you that you never get a second chance to make a first impression?
Anyway, ever since I confessed to preferring Pete Campbell over Don Draper back in June, a different person has asked me practically every week just WHAT THE HECK I THINK I'M PLAYING AT, MY GOD, REALLY.
Internet! I did not confess to a crush on Hitler! I did not express an interest in inviting Sadam Hussein over to look at my record collection! I did not even casually drop into conversation that I thought Spencer Pratt was kind of hot! Why the animosity towards poor old Pete Campbell, huh? What did Pete Campbell ever do to you?
(Um, besides sleep with your au pair, knock up your secretary, attempt to blackmail you, or maybe throw the roast chicken you cooked off the balcony, I mean.)
I get it, Pete Campbell is not tall or dark or handsome. He doesn't brood or act smooth or affix people with smoldering glances. But he's just so.....impish! He wears such skinny ties! Sure, he's manipulative and adulterous and awful, but old Don Draper is pretty manipulative and adulterous and awful as well, wouldn't you say? And does Don Draper do THIS?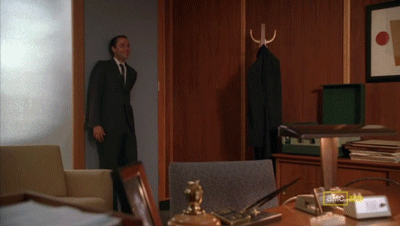 (My friend Nathan sent me this clip and I watched, transfixed, for close to ten minutes. IT WAS LIKE A TRACTOR BEAM. I COULD NOT PULL MY EYES AWAY FROM THE LOOP. IN FACT, I AM STUCK IN THE LOOP AGAIN. MAKE ME STOP WATCHING.)

I guess I don't really know why I love Pete Campbell, except that he is such a fun and hilarious villain to love. I mean, come on, we've already ascertained that I like the bad boys: Jordan Catalano, of course, and Daniel Desario, and---most recently---good old Justin Bobby. Hell, even Sean was a little bit naughty once way back in his youth: who could forget that time he got arrested, aged sixteen, for practicing his graffiti on the side of a fast-food restaurant and only got caught because he was--AND I QUOTE---"too drunk to run."
I know! And now look! He's a fine upstanding citizen who wears argyle!
It is possible that I also love Pete Campbell because of this dancing scence, of course, athough---to be fair---I have actually loved him from the beginning and this merely strengthened my case. And maybe pulled a few people over to the dark side too. "Oh, that's why Holly likes Pete Campbell!" I imagined them saying in their darkened living rooms. "I get it now!"
In fact, my one regret about my wedding is that this episode of Mad Men aired about three weeks after it, which meant I never even had the chance to convince Sean that we should learn the above for our first dance. Ah well, maybe for our first anniversary then. Watch this space. That's why they invented YouTube, right?
*********************************************************************************

By the way, are you wondering whether you won a tiny, awesome computer? If your name is Jess and you are comment 138 on this post, then you did! Hurrah! Your day just got better! First thing you do is download that Pete Campbell video, okay? And if your name is Lauren and you are comment 190 on THIS post, then you won your very own Tassimo hot beverage machine! You can make Pete Campbell a cup of hot chocolate. I feel like he would like it with marshmallows.