The trouble with giving someone an antique opium pipe for his birthday is that you've rather shot yourself in the foot after that. Once someone has received an antique opium pipe for his birthday, a nice shirt or a good book is always going to pale in comparison, isn't it? Sean turned 30 today and, for a while, I was at a loss as to what to get him. I've always given good presents; as well as the opium pipe, which I found in Bangkok a few years ago, I've presented him with an easel, an iPod, and a homemade book of a trip we took to Ireland together in 2001, when we weren't actually boyfriend and girlfriend but might as well have been. So today I took him to a Hindu temple called Sri Veeramakaliamamman---try saying that three times fast---in Singapore's Little India district, because I figured that was as far from the old cookout/fireworks/apple pie combo he'd become used to, having shared his birthday with America's Favorite Holiday for the last 30 years. Afterwards, we ate samosas and drank freshly-squeezed lime juice at a place on the side of the road, and then half an hour later we stopped for a beer, because I figured we might as well keep SOME Western traditions alive.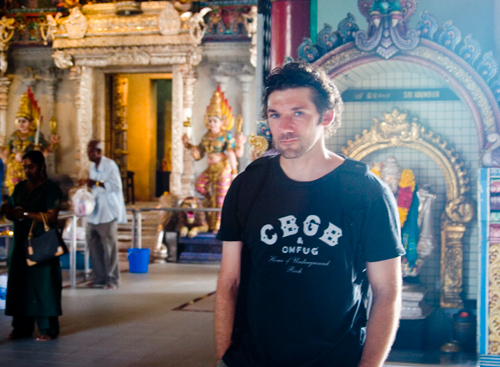 As for his presents, I gave him a rather handsome watch and had it engraved with something pertinent and poignant. I also presented him with a set of photographs of Burmese monks for inspiration (photography-wise, I mean, not inspiration to enter monastic life) that we'd seen together in a shop, and a very small book of Sudoku puzzles designed to keep him amused on the long and dangerous train rides to come. There's a place near here where you can be dragged around a lake while holding onto a cable and putting yourself at risk for prematurely aged skin and sun damage---wakeboarding, I believe it's called---and I thought that sounded fun, so I hand-made him a coupon for an hour of that, too. (That reminds me, the other day, we were watching TV and we noticed that the shows in Singapore were listed in the program guide with their season number next to them, so that you could know in advance if the Grey's Anatomy you were about to commit to would feature Meredith Grey Looking Rather Too Thin or Meredith Grey Looking Like You Could Snap Her In Half, My God, Someone Feed Her Some Mashed Potatoes Right Now, Like This Very Second. And because of this, the episode of Frasier we were about to watch was listed as Frasier X. Which---before we realized the thing about the seasons and the Roman numerals---we HOPED TO GOD was actually short for Frasier X-Treme and would feature Niles and Frasier wakeboarding or bungee jumping as early Pearl Jam played in the background.) Anyway, as I was about to say, this evening I got all Bachelor Fentesssssy Date on Sean, and took him to have dinner in a cable car as a surprise. (Sean says they are called gondolas in America. Gondolas? As you wish. Gondolas sound Venetian to me. But whatever---you'll see what I mean. Just as long as we're clear that I didn't take him for dinner in a San Francisco cable car or anything, racing up and down the hills with the food spilling everywhere and the bells clanging and the tourists taking pictures and hanging off the side.)
It was lovely, being suspended above the sea at sunset and raising illicit glasses of champagne---illicit because we snuck in a bottle in my purse, CLASSY OR WHAT?---but the romance was ruined rather by the arrival of a Korean film crew who asked if we'd mind being in a documentary to be aired later in the year on Korean TV. Look! Look at these men! How can you maintain the romance when these men have climbed inside your cable car during your birthday dinner and pointed a large camera in your face?
We were supposed to act natural and continue normal dinner conversation, but we were both sweating profusely as a result of having cameras thrust in front of us, lights shining down on us, and two strange men crammed into the two-person cable car alongside us. So we ended up, hands held across the table, saying things like "wow, look at this view! Isn't is beautiful? Yes, it's so beautiful! What a great view!" and trying our hardest not to make the other laugh. If you're in Korea sometime towards the end of the year, please turn on the television and look for us. You don't have to tell people you know us---trust me, you won't want to, WE WERE SO INCREDIBLY SWEATY---but just give a slight nod of acknowledgement, and it'll have made the whole thing worth it. Also, the part where I describe how delicious the mushroom soup was, especially when scooped up with the garlic crostini? I'll be collecting my Oscar for that next year. Best Monologue In A Korean Documentary About Dining In Singapore, I expect. No doubt the competition will be stiff.