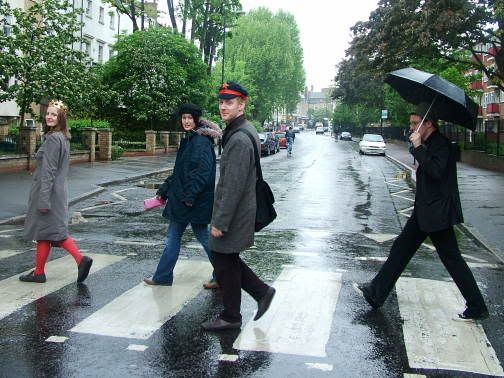 Oh Internet, you may think you've had fun before, but have you ever been to an amusement park in the middle of a rainy afternoon wearing an assortment of wacky hats? Do the math! If hats are funny on their own, and amusement parks are exciting by themselves, combining the two can surely only lead to the most fun ever experienced by anyone ever, right? Last Saturday, nursing hangovers, we discovered a bizarre collection of headwear at my friend Josh's flat: there was a fez, a crown, a grey tweed pork pie hat, a Russian Revolution cap, and a funereal ladies' hat with a black lace veil. We also discovered that there was a funfair in the park across the road. Some genius among us decided that if we wore the hats to the funfair---because, really, what better cure for a hangover is there than a few stomach-lurchingly bumpy rides and a whole lot of bright flashing lights?---then we'd immediately multiply the benefits of both and have the best! day! ever! And that person was absolutely right.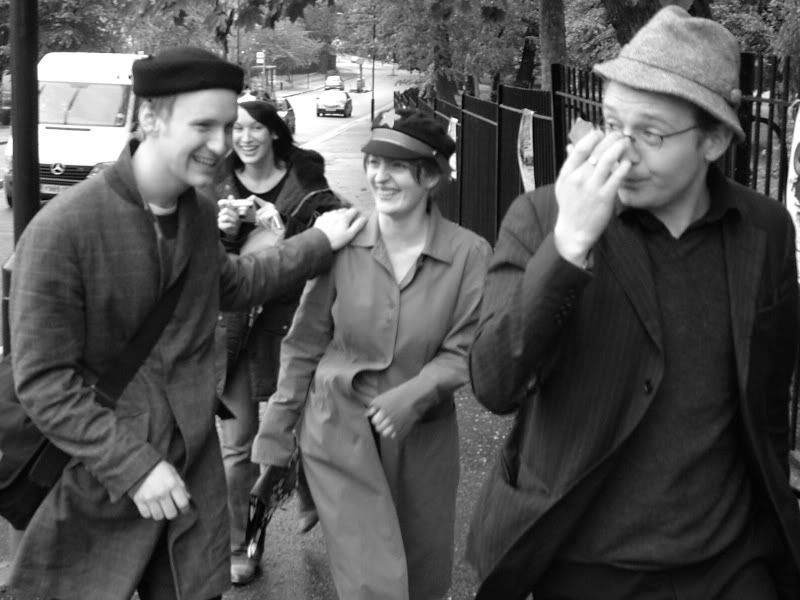 That's Huston on the right in the pork pie hat, Blakeburn in the middle with the Russian Revolution cap, and Doug to the left wearing the funereal ladies' hat with the black lace veil. As you can see, I'm bringing up the rear in the crown. Since I had misjudged the weather in London horribly---bringing with me from Charleston a selection of sundresses, flip-flops, and tank tops---I also had to borrow a very large and bulky coat from a boy who is significantly taller than I am. And who also is a boy. As such, I ended up looking like some forgotten Britpop artist from the mid-90s.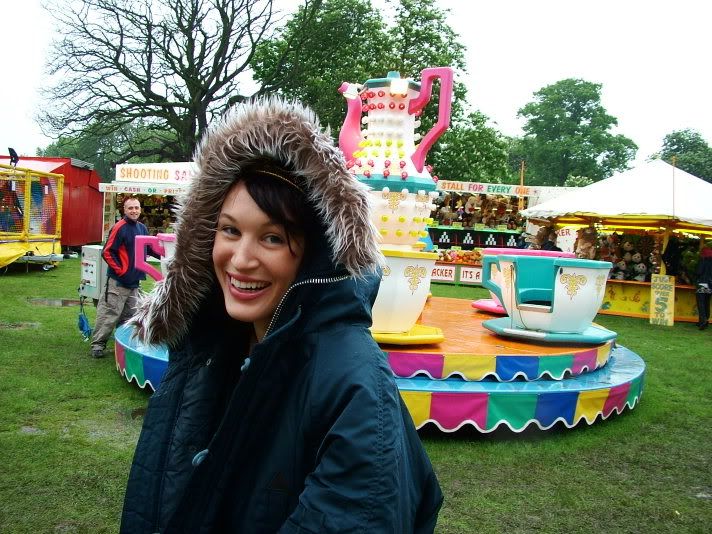 Check out the man behind me giving me a funny look. He may be wondering why I'm appearing to ape Noel Gallagher, but that's nothing compared to the abuse poor Doug took for wearing the ladies' funereal hat with the black lace veil. He was called, with much malice, "Hat Boy!" by one of the carnies. An incredibly creative and cutting insult, don't you think? He also had someone yell at him "why don't you go and get married?" Because of course! That's exactly what a man who decides to wear a tweed jacket and a black lace hat to a funfair needs more than anything else---to go and get married! There's the cure! The best part of the funfair was the time we spent on the bumper cars, circling around and around and around as, inexplicably, a reggae soundtrack played in the background, and we clutched our hats. If you are so inclined, you can see the video Josh took while I steered here. Keep your eye on the man in the funereal ladies' hat with the black lace veil, who even says "You're mine!" into the camera at one point. And listen for my screaming at the end. It's particularly English screaming, I think, which I suppose means I'm well and truly home. By the way, there are more photos here. But I'm new to Flickr so they're in the wrong order.